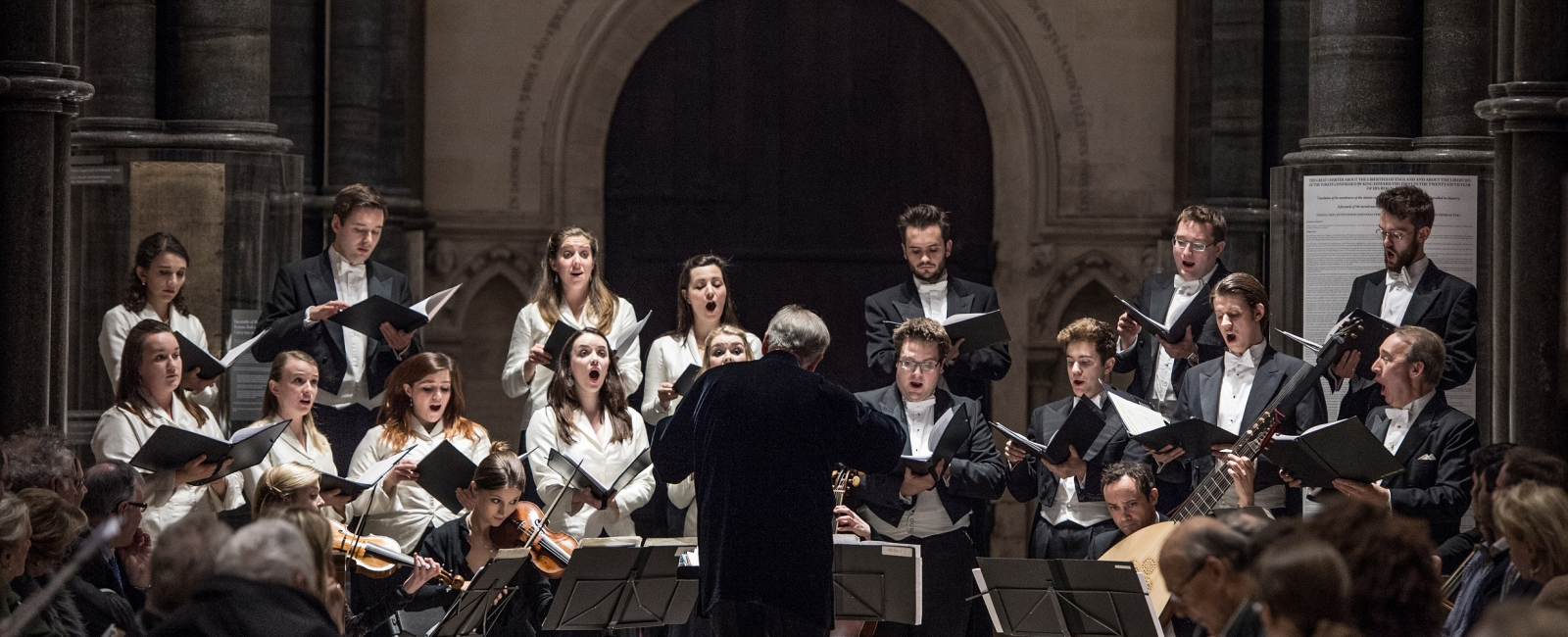 An introduction to the Monteverdi Apprentices Programme by Sir John Eliot Gardiner
You're a young musician fresh out of music college or university, and you are thinking of making it your career. So, what's your next move? Your long-term aim might be to tread the boards as an opera singer or as a concerto soloist, but at this stage you are still developing. So, too, are your musical horizons. But do you really have the goods (or indeed the stomach) to make a successful career? If so, what are your particular strengths, what genres of music-making are you most drawn to, what are the gaps in the training you've received so far - stylistic awareness, experience of ensemble work… versatility… improvisation? These are the kinds of questions that you're looking to have answered.
The Monteverdi Apprentice Programme was set up in 2007, the first of its kind in the UK, its aim being to nurture exceptional musical talent and an aptitude for ensemble performance. We felt there was a pressing need to create a safe environment and opportunity for gifted young musicians to dip their toes in the waters of professional music-making while still exploring their own potential - just plunging into the professional world straight out of college can be a daunting prospect at the best of times. There can be no camouflage in singing and playing. Even for the most talented and technically secure musicians the experience can be chilling. In such a fiercely competitive market it can lead to initial disappointment or frustration. There are lots and lots of good musicians around and there are no guarantees of success. The music profession is full of shooting stars, great talents that dazzle briefly and burn themselves out too soon; there's a lot of unnecessary wastage.
The Apprentice Programme follows the age-old apprenticeship principle of learning a craft on the job from older hands. In the summer of 2007 six gifted singers in their early twenties were initially selected by open audition from more than a hundred applicants. In subsequent years this expanded to eight (the programme extends in alternate years to instrumentalists as well as to singers) and to nine in 2018. Our aim is to round out their musical education and to help equip them for future challenges by giving them the opportunity to work alongside some of the best and most experienced musicians in the business. During their Apprentice year these young musicians are integrated with the Monteverdi ensembles, rehearsing and performing in concerts at home and on tour overseas with the Monteverdi Choir, English Baroque Soloists (EBS) and the Orchestre Révolutionnaire et Romantique (ORR). In the past these have included iconic works such as Bach's St Matthew Passion, taking part in a staged production of Carmen at the Opéra Comique in Paris, travelling to the USA for Beethoven's Missa Solemnis, to Europe with Verdi's Requiem, or working alongside other international orchestras such as the Gewandhaus orchestra in Leipzig, the Tonhalle in Zürich or the LSO in London.
At the start of the year each Apprentice is assigned a mentor - an experienced musician within the Monteverdi Choir, EBS or ORR - on hand to give encouragement and one-to-one advice on the multiple challenges that arise from ensemble singing and playing at the highest professional level: guiding them how to prepare themselves in advance of individual projects, how to meet the stylistic demands of a wide-ranging repertoire, how to explore and adjust. The mentors provide a range of invaluable practical advice that the Apprentices might not have received in college or conservatoire: tips as to how to pace themselves through six hours of intensive rehearsals in one day, or how to conserve their voices for the evening concert after the fatigue of air travel. Every activity during their apprenticeship year is in fact geared towards building their confidence and development as musicians as well as to help weld them into a free-standing vocal consort or instrumental ensemble. This is vital preparation for the high pressure of performing with the Monteverdi ensembles in concerts on the international stage.
By the end of the year a Monteverdi Apprentice should be able to gauge his or her individual worth as a singer or instrumentalist with greater objectivity. They will have been given a taste of the life of a professional musician and be in a better position to weigh up if this is genuinely the path they wish to pursue either as a soloist, an ensemble musician, or both. And if he or she has shown that they can meet the requisite musical, technical and stylistic standards that define the Monteverdi Choir, EBS or ORR, they may be offered a place whenever there is a vacancy. The programme now has over 60 alumni with roughly 70% of Apprentices graduating as fully-fledged members of the Monteverdi ensembles and performing with them regularly in their many projects.
There could be no better first step towards a professional career.
"Nadia Boulanger, my fierce but much-loved teacher, often quoted to us pupils a saying by her friend Paul Valéry, the French poet and philosopher: "Talent without genius is so little, but genius without talent is nothing." It's a phrase that initially baffled me because at the time I thought of talent as simply a diminutive form of genius. But she was using the word in the French sense of it as craft. Craft is what's needed to convert raw talent into something wholly exceptional - something that people respond to and will pay to hear. I encourage our apprentice singers to maintain an allegiance to the individual transformative sound that marked them out in the first place - what we heard at their first audition - and to underpin it with a solid hard-earned technique (or 'craft') which can be augmented still further when singing with other kindred voices in the Monteverdi Choir." - John Eliot Gardiner
Summary of the Apprentice Year
The Programme offers participants the following combination of benefits:
• The opportunity to rehearse and perform as part of the Monteverdi ensembles (Monteverdi Choir, EBS, ORR) in all their UK rehearsals and performances in the course of a year
• The opportunity to take part in selected overseas tours with the Monteverdi ensembles, and, in the case of the Monteverdi Choir, with other major symphony orchestras
• Exposure to a wide and rich range of repertoire - from a cappella polyphony to oratorios, and from opera to the great symphonic works of Beethoven, Berlioz and Brahms, to name but a few
• Free, specialist tuition and coaching by distinguished practitioners in vocal/instrumental technique, interpretation, improvisation, languages and yoga
• Periods of dedicated tuition, coaching and mentoring
• Valuable individual mentoring from an experienced member of the Monteverdi ensembles
• The opportunity to experiment and explore in a supportive, professional environment
Monteverdi Apprentice Programme continues to have a deep impact upon the development of all these young musicians, past and present: extending their musical horizons and broadening their career aspirations. It is difficult to exaggerate the benefits the programme offers in terms of its varied opportunities, enabling the Apprentices to work closely with musicians of the highest calibre and under the direction of one of the world's finest conductors and interpreters of classical music. While this pioneering initiative has been imitated and augmented by other European ensembles it remains pre-eminent in its field and is heavily oversubscribed.
"We live in a society that rewards fast success based on little talent or commitment, which is transient and a dangerous place to be. Do we want to promote instant success and instant failure, or do we want to promote self-esteem and hard work?" - Tamara Rojo (lead principal ballerina and artistic director of the English National Ballet).
By supporting the Monteverdi Choir & Orchestras, you are supporting our Apprentices.
Our family of members, donors and benefactors help enable the ambitious, ground-breaking core artistic projects in which our Apprentices take part.
For general enquiries about the Monteverdi Apprentices Programme please contact Andrew Softley on +44 (0)7960 119770 or email: [email protected]
To discuss how you can support the Monteverdi Apprentices Programme please contact Freya Firth-Robson on +44 (0)7534 171166 or email: [email protected]
---
Former Apprentices
2019/2022
Xenia Gogu - Violin
Hatty Haynes - Violin
Gabi Jones - Violin
Chloé Jullian - Violin
Will McGahon - Violin
Oscar Holch - Viola
Jam Orrell - Viola
George White - Viola
Octavie Dostaler-Lalonde - Cello
Victor Garcia - Cello
Eglantine Latil - Cello
Miguel Pliego - Bass
2019/20
Naomi Orrell
2018/19
Sam Cobb, soprano
Jonathan Hanley, tenor
Laura Jarrell, soprano
Michael Lafferty, baritone
Charlotte La Thrope, soprano
Angus McPhee, baritone
Victoria Meteyard, soprano
James Quilligan, bass-baritone
Margarita Slepakova, mezzo-soprano
2016/17
Dorran Alibaud, cello
Konstanze Glander, violin
Monika Grimm, viola
Gabrielle Maas, violin
Johanna Radoy, violin
Bianca Riesner, cello
Jenna Sherry, violin
Elisabeth Sordia, viola
Mátyás Virág, cello
2014/15
Jessica Cale, soprano
Rory Carver, tenor
Rosemary Clifford, mezzo-soprano
Rebecca Hardwick, soprano
Angela Hicks, soprano
Emma Lewis, mezzo-soprano
Jake Muffett, baritone
Angharad Rowlands, soprano
2012/13
Emily Armour, soprano
Sarah Denbee, mezzo-soprano
Ellen Giacone, soprano
Peter Harris, tenor
Eleanor Minney, mezzo-soprano
Nicholas Mogg, bass
Katie Schofield, mezzo-soprano
Gordon Waterson, countertenor
Rafael Becerra, violin
Davina Clarke, violin
Carina Drury, cello
Geoffrey Irwin, viola
Jonathan Rees, cello
Pippa Macmillan, double bass
Beatrice Scaldini, violin
Poppy Walshaw, cello
Maja Wegrzynowska, viola
2010/11
Oliver-John Ruthven, keyboard
Stephanie Guidera, mezzo-soprano
Raffaele Pe, countertenor
Gareth Treseder, tenor
Eun Seo, soprano
Edmund Saddington, bass
James Priest, bass
Rory McCleery, countertenor
2009/10
Louella Alatiit, violin
Lucile Perrin, cello
Edwina Cordingley, cello
Tomoki Sumiya, double bass
Maria de Gracia Ramirez, viola
Karin Bjork, viola
Hilary Michael, viola
Kinga Ujszaszi, viola
2008/09
Christopher Borrett, bass
Zoe Brookshaw, soprano
Susanna Fairbairn, soprano
Chloe Morgan, mezzo-soprano
Robyn Parton, soprano
Simon Ponsford, countertenor
Lucy Roberts, soprano
Emma Walshe, soprano
2007/08
Thomas Appleton, bass
Julian Gale, countertenor
Emilia Hughes, soprano
Lucy Page, soprano
Rupert Reid, tenor
Charles Richardson, countertenor