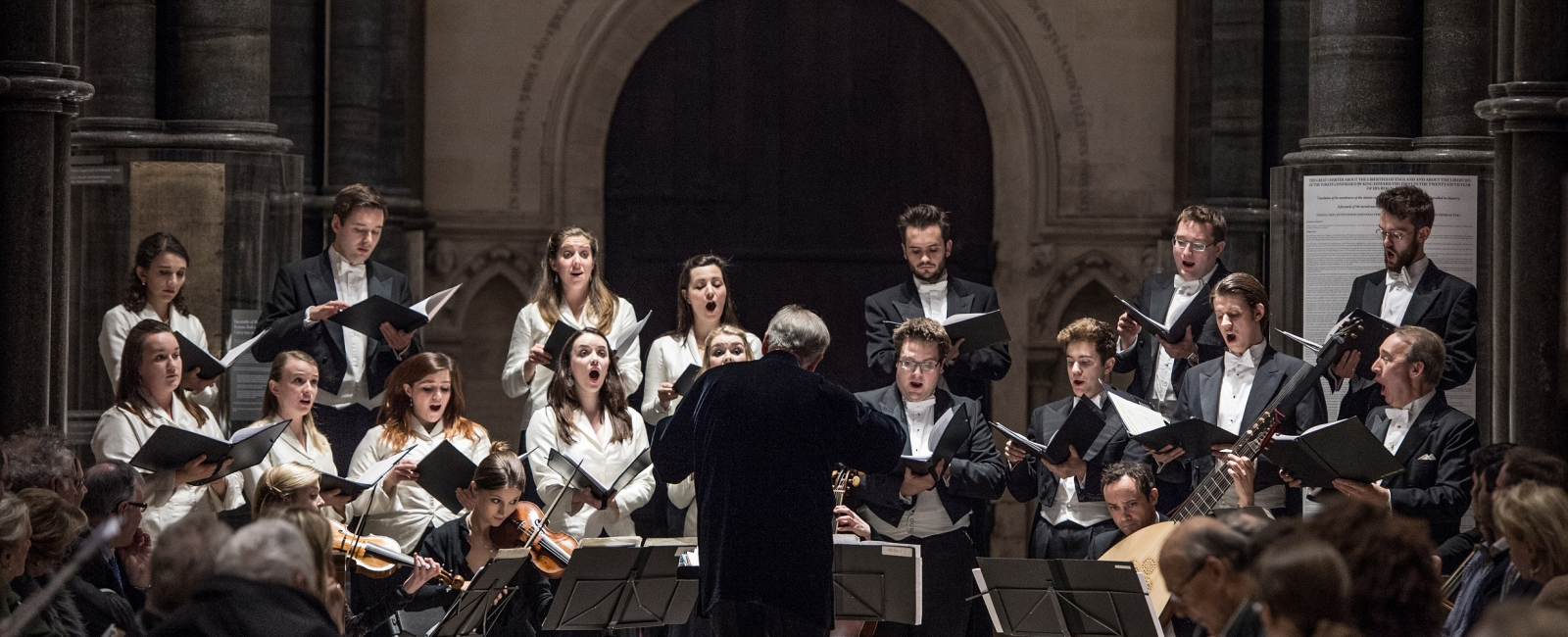 Our Monteverdi Apprentices Programme enables outstanding young musicians to spend an entire year training and performing with our three world-class ensembles, under the direction of Sir John Eliot Gardiner.
The 2019/20 Programme will be for instrumentalists, with a focus on the work of the Orchestre Révolutionnaire et Romantique; further details will be released in early 2019. To find out more about the current 2018/19 Programme, please click here, and for biographies of our current Apprentices, please click here.
Since 2007, the Monteverdi Apprentices Programme has placed young musicians alongside experienced professionals, offering them the opportunity to perform at the highest level as both ensemble members and soloists. We recruit the most promising young performers – those on the verge of entering the profession – and introduce them to the musical tradition of the Monteverdi Choir & Orchestras and the working practices of Sir John Eliot Gardiner. With the support of a team of mentors well-versed in our unique brand of historically-informed performance, our Apprentices are integral to the constant renewal and evolution of our internationally-renowned core sound.
'Our Apprentices have proved to be a magnificent addition to the Monteverdi ensembles. The Apprentices Programme provides a holistic and comprehensive programme offering the very best young musicians a bridge between university, conservatoire and the professional world.' Sir John Eliot Gardiner
By way of a year-long apprenticeship, our Apprentices participate in tours and workshops with our ensembles and are introduced to the highest level of musical practice. They also spend time working on and performing a wide repertoire by participating in projects. This all goes to provide excellent preparation for a performing career, learning at an early stage of development about the exacting demands and working practices of internationally-renowned ensembles. Throughout the course these young musicians receive additional educational benefits, ranging from individual mentoring and coaching to audition technique seminars.
The Apprentices Programme receives no public subsidy. To discuss how you can offer your support, and thereby ensure that the scheme remains available to aspiring young musicians, please contact Tom Hansell on +44 (0)20 3197 9818 or email tom@monteverdi.org.uk.
CURRENT SUPPORTERS OF THE MONTEVERDI APPRENTICES PROGRAMME:

Geoffrey Barnett
Mr Roger Chadder
Heather Davies
Morny & Ian Hay Davison
Mr John Fairbairn & Mrs Felicity Fairbairn
Paul Nettelmann
Mr Keith Salway
Mrs Helen Skinner
The D'Oyly Carte Charitable Trust
The Garrick Club Charitable Trust
The Golsoncott Foundation
The Idlewild Trust
The Thistle Trust
---
Former Apprentices
2016/17
Dorran Alibaud, cello
Konstanze Glander, violin
Monika Grimm, viola
Gabrielle Maas, violin
Johanna Radoy, violin
Bianca Riesner, cello
Jenna Sherry, violin
Elisabeth Sordia, viola
Mátyás Virág, cello
2014/15
Jessica Cale, soprano
Rory Carver, tenor
Rosemary Clifford, mezzo-soprano
Rebecca Hardwick, soprano
Angela Hicks, soprano
Emma Lewis, mezzo-soprano
Jake Muffett, baritone
Angharad Rowlands, soprano
2012/13
Emily Armour, soprano
Sarah Denbee, mezzo-soprano
Ellen Giacone, soprano
Peter Harris, tenor
Eleanor Minney, mezzo-soprano
Nicholas Mogg, bass
Katie Schofield, mezzo-soprano
Gordon Waterson, countertenor
Rafael Becerra, violin
Davina Clarke, violin
Carina Drury, cello
Geoffrey Irwin, viola
Jonathan Rees, cello
Pippa Macmillan, double bass
Beatrice Scaldini, violin
Poppy Walshaw, cello
Maja Wegrzynowska, viola
2010/11
Oliver-John Ruthven, keyboard
Stephanie Guidera, mezzo-soprano
Raffaele Pe, countertenor
Gareth Treseder, tenor
Eun Seo, soprano
Edmund Saddington, bass
James Priest, bass
Rory McCleery, countertenor
2009/10
Louella Alatiit, violin
Lucile Perrin, cello
Edwina Cordingley, cello
Tomoki Sumiya, double bass
Maria de Gracia Ramirez, viola
Karin Bjork, viola
Hilary Michael, viola
Kinga Ujszaszi, viola
2008/09
Christopher Borrett, bass
Zoe Brookshaw, soprano
Susanna Fairbairn, soprano
Chloe Morgan, mezzo-soprano
Robyn Parton, soprano
Simon Ponsford, countertenor
Lucy Roberts, soprano
Emma Walshe, soprano
2007/08
Thomas Appleton, bass
Julian Gale, countertenor
Emilia Hughes, soprano
Lucy Page, soprano
Rupert Reid, tenor
Charles Richardson, countertenor