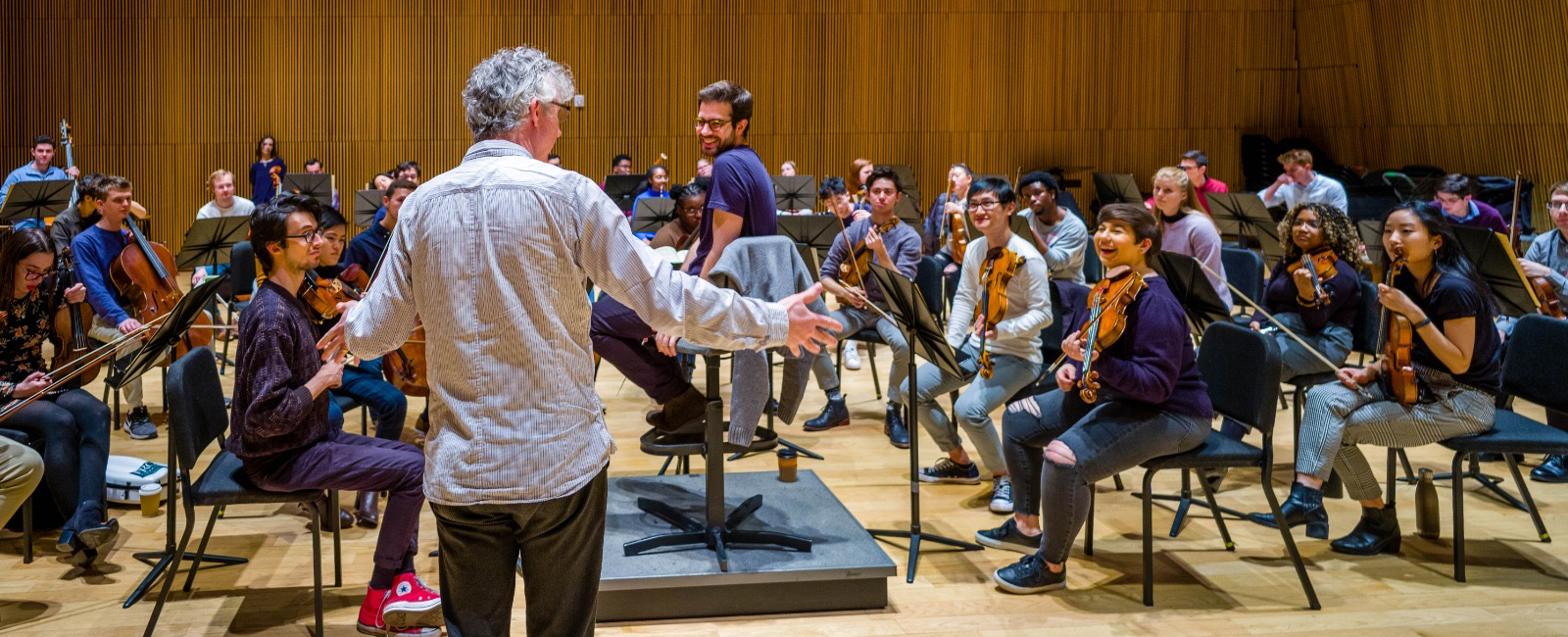 As an integral part of our work for over five decades, we are passionately dedicated to nurturing future musical generations and sharing our specialist knowledge with emerging talent.
Our education projects complement our primary concert activity by working in collaboration with schools, venues and other organisations in and around London and on tour, offering open access to our rehearsals, the chance to meet with our musicians, talks, workshops and masterclasses with members of our three ensembles.
The Monteverdi Apprentices Programme enables outstanding young musicians to spend an entire year training and performing with our three world-class ensembles, under the direction of Sir John Eliot Gardiner. Participants perform and tour with the ensembles, take part in additional individual and group coaching sessions, and receive mentoring from our experienced musicians.
In our management office, the Arts Management Training Programme offers graduates looking to build careers in arts administration a bridge between university and the professional world in an innovative and supportive environment.
Music Education Hubs
Much of our outreach work in the UK is in collaboration with Music Education Hubs, and we are always looking to complement our appearances on the concert platform with inspiring and informative projects for children and young people.
"[The musicians] who spoke to us in the morning inspired me by talking about their job as a player in an orchestra."
Year 9 pupil, Parmiter's School
Recent projects have resulted in nominations for Best Classical Music Education Initiative as part of Rhinegold Music and Drama Expo's Music Teacher Awards for Excellence, and a Royal Philharmonic Society award in the Learning & Participation category.
Schools
Through our work with Music Education Hubs, we have reached hundred of students across the UK, and we are always looking to build new relationships directly with schools in and outside London.
"I loved learning fascinating facts about the period instruments and how they compare with their modern equivalents."
Year 12 pupil, The Bishop's Stortford High School
Youth Choirs
We regularly work in partnership with youth choirs, both in the UK and internationally. Our work with these choirs gives talented young performers the opportunity to learn first-hand about the artistic process during the most formative years of their musical lives, and provides a range of experiences which, we hope, will shape their musical futures.
Conservatoires & Universities
Conservatoire students from the UK and in our touring cities are regularly invited to attend our rehearsals in order to observe our working practices first hand and experience our unique brand of historically-inspired music-making in a more intimate environment than the concert hall. In recent months, we have welcomed students from all of the major London conservatoires to our rehearsals; on tour, international participants have included students from The Juilliard School (US), Liszt Academy (Hungary), and the Conservatoire de Paris (France).