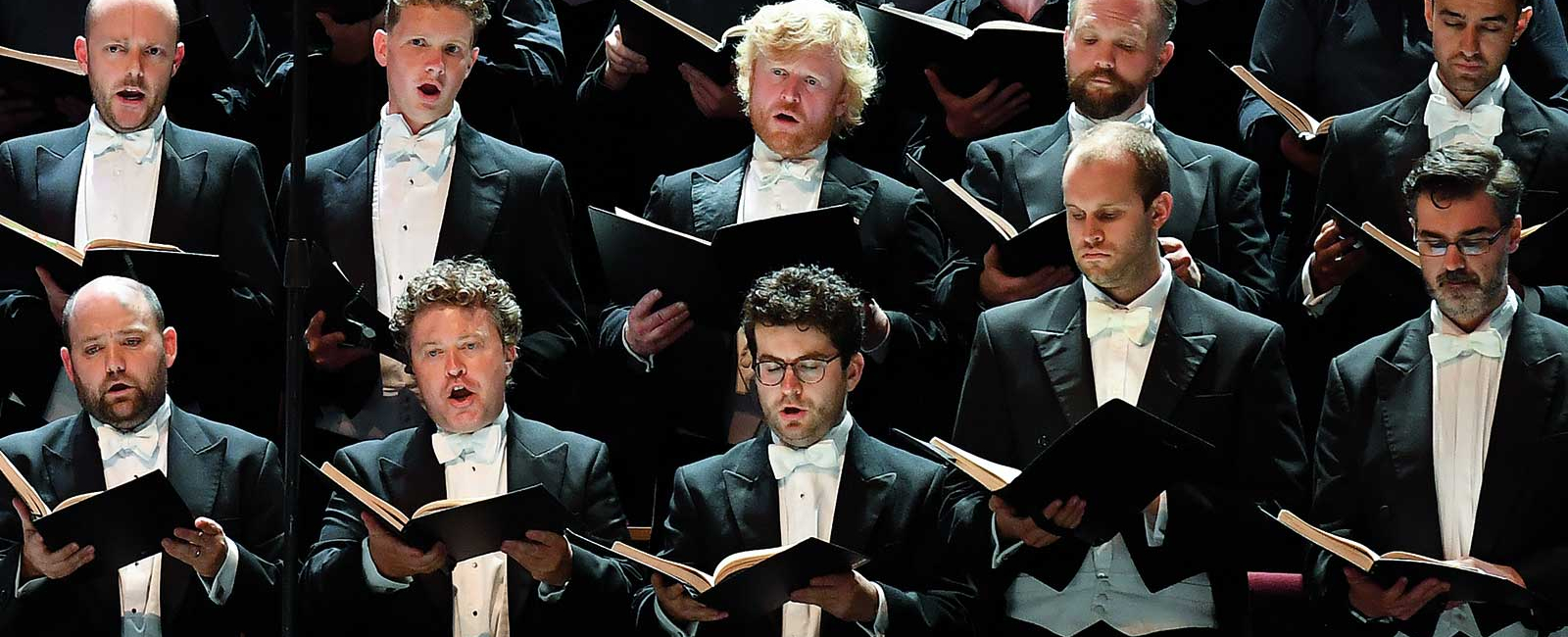 Founded by John Eliot Gardiner as part of the breakaway period instrument movement of the 1960s, the Monteverdi Choir has always focused on bringing a new perspective to its repertoire.
With a combination of consummate choral technique and historically-informed performance practice, its real difference as an ensemble lies in its ability to communicate music to their audiences worldwide. The Choir goes beyond the music, seeking to make the visual impact of its performance enhance the experience, even exploiting the venues themselves in the search for immediacy and drama. This approach has led the Monteverdi Choir to be consistently acclaimed over the past 50 years as one of the best choirs in the world.

"If there were a Nobel prize for choirs, the Monteverdi Choir should be its laureate"
Le Monde
Amongst a number of trailblazing tours was the Bach Cantata Pilgrimage in 2000, during which the Choir performed all 198 of J. S. Bach's sacred cantatas in more than 60 churches throughout Europe and America. The entire project, recorded by the company's record label Soli Deo Gloria, was hailed as, "one of the most ambitious musical projects of all time" by Gramophone magazine. The Monteverdi Choir has over 150 recordings to its name and has won numerous prizes.
The Choir is also committed to training future generations of singers through the Monteverdi Apprentices Programme. Many Apprentices go on to become full members of the Choir, and former Choir members have also gone on to enjoy successful solo careers.
"The Monteverdi Choir has dominated the choral scene worldwide for more than 50 years"
The Guardian ★★★★★
The Choir is hugely versatile, often performing in formal concert, staged concert and full opera formats. It regularly collaborates with leading arts organisations across the world, including Gewandhausorchester Leipzig; Hofesh Shechter dance company; the National Youth Choir of Scotland; Opera Comique; the Royal Opera House, Covert Garden; Théâtre du Châtelet, and Gardiner's own English Baroque Soloists (EBS) and Orchestre Révolutionnaire et Romantique (ORR).
Recent achievements include the award-winning Monteverdi 450 Trilogy tour, in which the Choir performed all three of Monteverdi's surviving operas across Europe and in the United States. In a reprise of its now iconic Bach Cantata Pilgrimage, 2018 saw the Choir perform several mixed programmes of the composer's sacred cantatas with the EBS across Europe, before giving a number of critically-acclaimed performances of Verdi's Requiem alongside the ORR - including a landmark concert at Westminster Cathedral in aid of Cancer Research UK.
Forthcoming plans include a tour of sacred music featuring works by Carissimi, Monteverdi, Purcell and Scarlatti, which will see the Choir perform it's inaugural concerts in Russia, Slovakia, and four countries across South America. In 2020, the Monteverdi Choir will accompany the Orchestre Révolutionnaire et Romantique in performances of Beethoven's 9th symphony, forming part of a wider project celebrating the 250th anniversary of the composer.
​
John Eliot Gardiner - Monteverdi Choir
Monteverdi - Vespers, Versailles 2015
Handel - Dixit Dominus, Versailles 2014