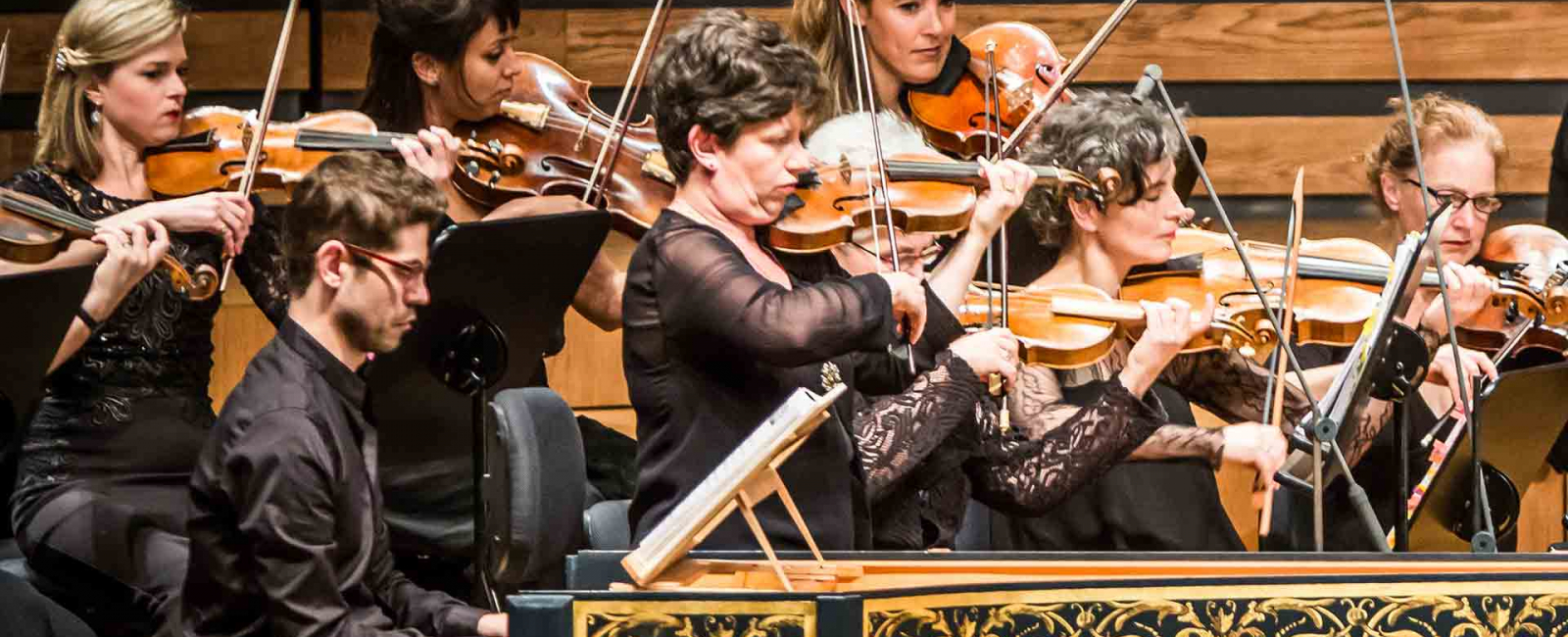 The English Baroque Soloists, founded in 1978, seeks to challenge preconceptions of 200 years of music ranging from Monteverdi to Mozart and Haydn.
Leader - Kati Debretzeni
Equally at home in chamber, symphonic and operatic performances, their distinctively warm and incisive playing is instantly recognisable.
One of the world's leading period instrument orchestras, the ensemble has performed at many of the world's most prestigious venues including Milan's Teatro alla Scala, the Concertgebouw in Amsterdam and the Sydney Opera House.
The English Baroque Soloists and the Monteverdi Choir, conducted by Dinis Sousa, will perform Bach's Mass in B minor, as well as Handel's pastoral ode l'Allegro, il Penseroso ed il Moderato, on their North American tour in October 2023 following their European tour of Bach's monumental work in April. In May the English Baroque Soloists and the Monteverdi Choir were honoured to perform at the Coronation of Their Majesties King Charles III and Queen Camilla. In January 2023 the EBS were joined by Isabelle Faust and Antoine Tamestit for performances of orchestral works by Haydn and Mozart throughout Europe.
In 2022 the ensemble completed a number of successful tours, including symphonies by Mozart and Haydn across Europe and the United States and works by Bach, Schütz and Schein in collaboration with the Monteverdi Choir at prestigious festivals across Europe. The year culminated in a tour of J.S. Bach's Christmas Oratorio, with the Monteverdi Choir, at Teatro alla Scala, Milan, Chapelle Royale, Château de Versailles, and at our London home, St Martin-in-the-Fields, which was livestreamed on Deutsche Grammophon's new online platform STAGE+.
In 2021 the EBS performed its first live streamed concert, Bach's St John Passion with the Monteverdi Choir, filmed in Oxford's historic Sheldonian Theatre and streamed on Deutsche Grammophon's online platform DG Stage. The EBS also gave critically acclaimed performances of Handel and Bach at two of Europe's most prestigious music festivals; the BBC Proms and the Berliner Festspiele.
The ensemble famously took part in the iconic Bach Cantata Pilgrimage in 2000 alongside the Monteverdi Choir, performing all of Bach's sacred cantatas throughout Europe.
In 2019 the EBS made its inaugural visit to South America for the Cartagena International Music Festival, and subsequently undertook a tour of Handel's dramatic oratorio Semele with the Monteverdi Choir, visiting a series of iconic venues including Barcelona's Palau de la Música and Milan's Teatro alla Scala. The ensemble then gave its debut performances in Russia alongside the Monteverdi Choir with a programme of works by Monteverdi, Carissimi, Scarlatti and Purcell, before returning to South America for further inaugural concerts in Brazil, Uruguay, Argentina and Chile.
In 2017 the EBS took part in the Royal Philharmonic Society's award-winning Monteverdi 450 project, with the Monteverdi Choir, in which they performed all three of Monteverdi's surviving operas across Europe and in the USA.
The EBS has also participated in major opera productions alongside the Choir in works by Handel, Purcell and Monteverdi, and recorded Mozart's greatest operas for Deutsche Grammophon in the 1990s.
The English Baroque Soloists is under the patronage of HM King Charles III.
​
Trailer - Bach Mass in B minor and Handel l'Allegro, il Penseroso ed il Moderato
Bach Mass in B minor - Château de Versailles 2023
Bach St John Passion - April 2021
​Bach Brandenburg Concerto No. 2