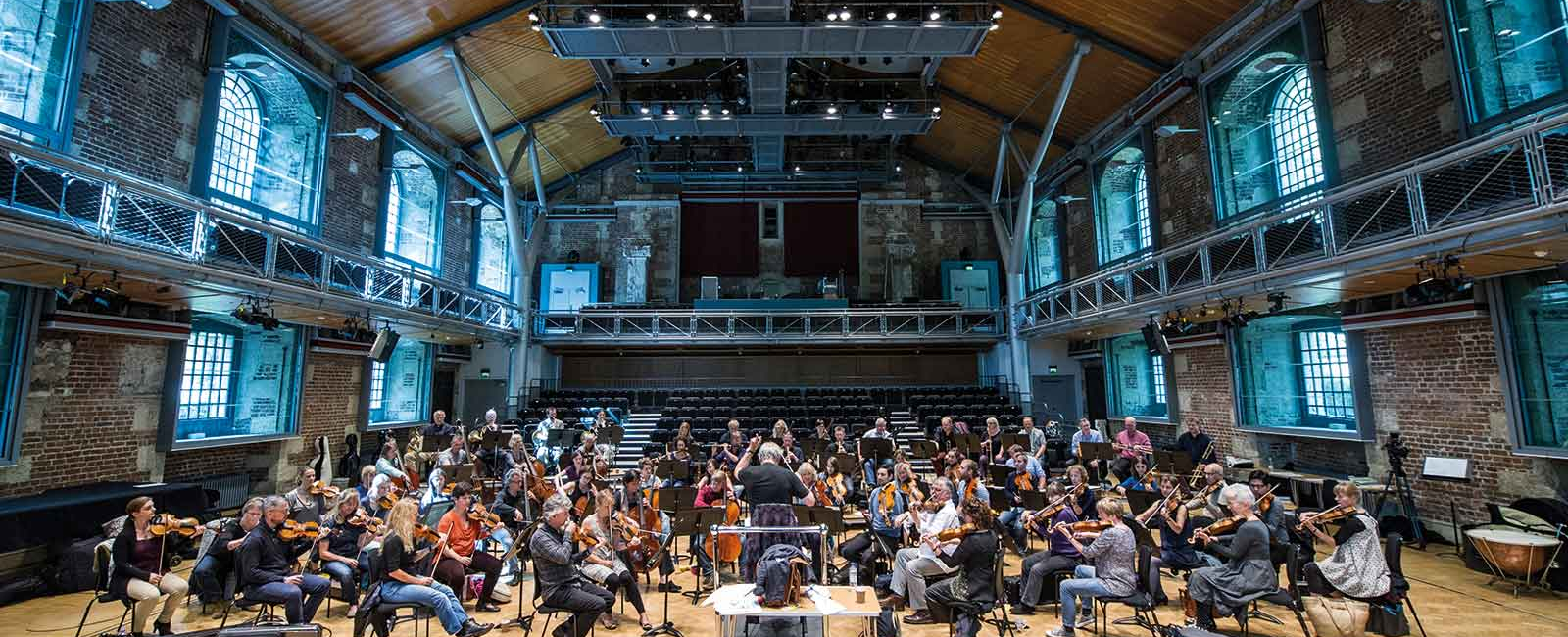 Monteverdi Choir & Orchestras is the registered charity of three leading international music ensembles: the Monteverdi Choir, English Baroque Soloists and Orchestre Révolutionnaire et Romantique.
Each ensemble shares in the distinctive vision of our Founder and Artistic Director, John Eliot Gardiner, to bring fresh perspectives, immediacy and drama to performances around the world.
Our world-class musicians specialise in historically inspired projects across a variety of repertoire ranging from sacred music to semi-staged operas, as well as intimate chamber works.
In 2022, the Monteverdi Choir & Orchestras have performed a number of successful tours including partnerships with the Berlin Philharmonic, Concertgebouw and Orchestre Philharmonique Luxembourg, Symphonies by Mozart and Haydn at venues in Europe and the US, a programme of Bach, Schütz and Schein at prestigious festivals across Europe and Beethoven's late masterpiece: Missa solemnis at the BBC Proms, Berliner Festspiele and Wratisavia Cantans.
Monteverdi Choir & Orchestras (MCO) records on its own label, Soli Deo Gloria and collaborates with prestigious labels including Deutsche Grammophon, with over 150 recordings, films, and live streams, many of which have received critical acclaim. Notable recordings include J.S. Bach's complete set of Cantatas, as part of the Bach Cantata Pilgrimage project in 2000 and film recordings of Monteverdi's three surviving operas, as part of the RPS award winning Monteverdi 450 project in 2017.
Alongside performances and recordings, MCO is committed to nurturing future generations of classical musicians. The Monteverdi Apprentice Programme enables outstanding young musicians to train and perform alongside MCO's three world-class ensembles, under the direction of John Eliot Gardiner.
Annual report
Please visit our Charity Commission page to view our most recent Annual Report.
His Majesty the King is Patron of Monteverdi Choir & Orchestras
The Monteverdi Choir & English Baroque Soloists perform Monteverdi's Vespers
​About the Monteverdi Apprentices Programme