Monteverdi Choir
Orchestre Révolutionnaire et Romantique
John Eliot Gardiner - conductor
TOUR DATES
September
Sun 16 | NFM | Wroclaw
Tue 18 | Westminster Cathedral | Ldn
Thu 20 | Cattedrale di Pisa | Pisa
October
Tue 30 | KKL | Lucerne
November
Thu 1 | Musikverein | Vienna
Fri 2 | Müpa | Budapest | Hungary
Sun 4 | Gasteig | Munich
Mon 5 | Philharmonie | Luxembourg
Wed 7 | Concertgebouw | Amsterdam
The Monteverdi Choir and Orchestre Révolutionnaire et Romantique led by John Eliot Gardiner embarked on a European tour of Giuseppe Verdi's legendary and powerful Mesaa da Requiem in autumn 2018.
Following two hugely successful performances of the Messa da Requiem in Zurich earlier in 2018, given by John Eliot Gardiner and the Monteverdi Choir with the Tonhalle-Orchester, the Orchestre Révolutionnaire et Romantique stepped into the frame to illuminate Verdi's work on period instruments. After travelling to Wroclaw to open the series in celebration of the birth or Poland on 16 September, the tour visited a roster of major European venues including Pisa, Lucerne, Vienna, Budapest, Munich, Luxembourg before concluding in Amsterdam on 7 November. A special London concert took place on 18 September at Westminster Cathedral in support of Cancer Research UK, which was dedicated to MCO's late Stage Manager Richard Fitzgerald who sadly passed away from lung cancer in 2016. Click here to find out more about this event.
The Monteverdi Choir and ORR were joined by a stellar line-up of soloists; Corinne Winters (Soprano), Ann Hallenberg (Mezzo-soprano), Edgaras Montvidas (Tenor) and Gianluca Buratto (Bass).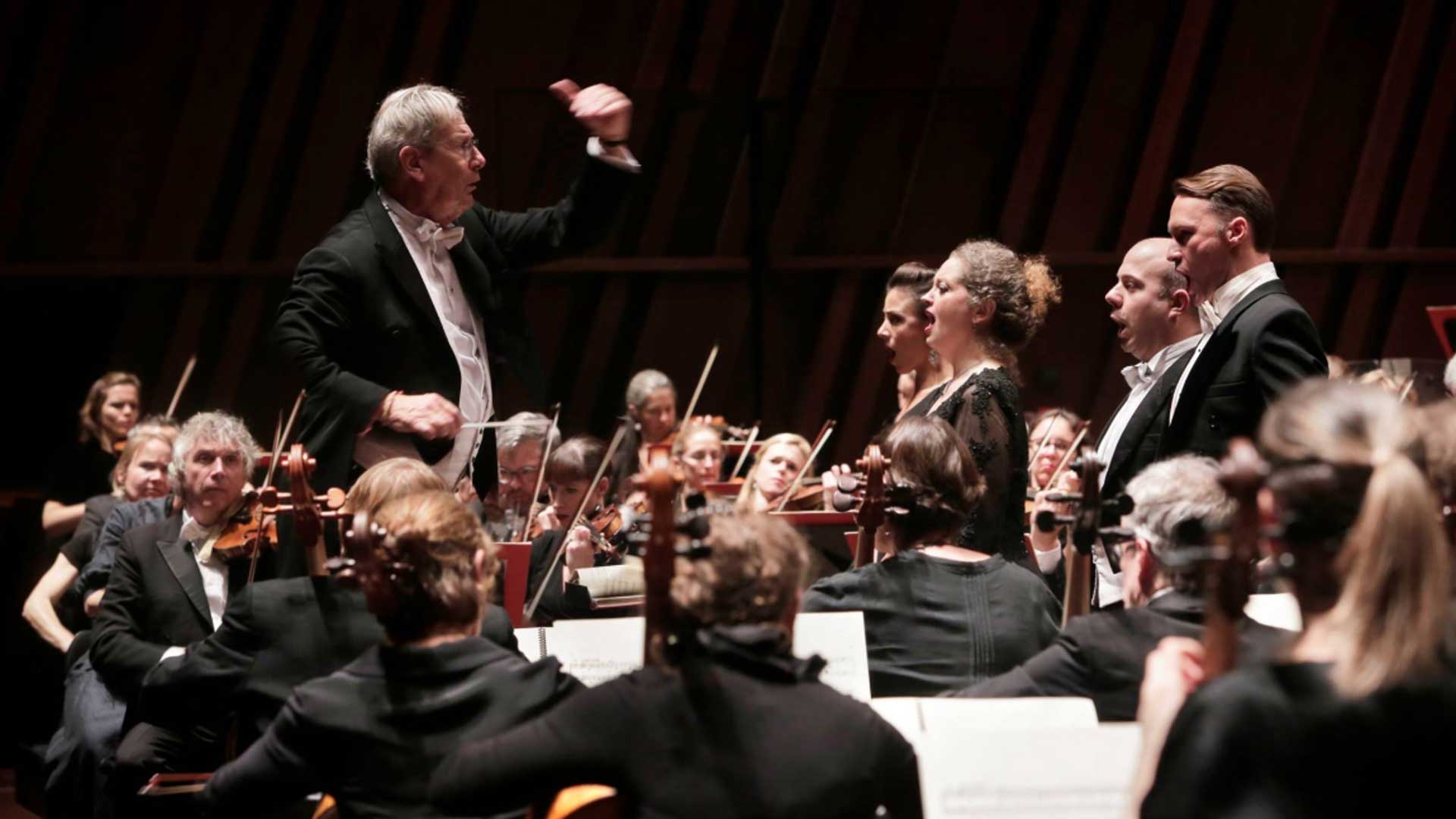 REVIEW HIGHLIGHTS
NFM, Wroclaw
"Gardiner gripped the audience together with his sixty-two forces of the choir, the bass drum and timpani, the pure power of ORR's brass, thunderous strings and the alarming piccolo so strict and hard that there was a shake of the earth the listener could not fend off." – Bachtrack ★★★★ Jens Klier
Westminster Cathedral
"Accompanied by the shimmering strings of the Orchestre Révolutionnaire et Romantique, the ravishing voices of the Monteverdi Choir set out for a spellbinding venture into the Verdi choral tableau, performing with such profound unity under Gardiner's direction only years of collaboration can bring forth." – Jari Kallio
"The occasion was a performance of Verdi's Requiem in Westminster Cathedral on Tuesday night that was perhaps as perfect a demonstration of the power of music as I have ever experienced." – Beachcomber, The Express
Musikverein, Vienna
"The Monteverdi Choir was, of course, a ray of light with its elastic, precise way of singing." – DerStandard
Philharmonie, Luxembourg
"No need to repeat here the extraordinary quality of the Monteverdi Choir, whose flexibility and ductility probably have no equal at present" – ResMusica, Pierre Degott
"The Orchestre Révolutionnaire et Romantique creates a terrifying apocalyptic climate, which leaves the audience speechless at the end of an hour and a half of incredible tension" – ResMusica, Pierre Degott
Concertgebouw, Amsterdam
"What was revealed by Gardiner between that beginning and the end was truly revolutionary and romantic." – Opera Magazine NL, Franz Straatman
"Gardiner built a mighty dramatic arc, with the help of four passionate soloists, who were not afraid to seek the limits of their expressive abilities" – NRC Handelsblad, Joost Galema
"The amazing backbone of this performance was the miraculous Monteverdi Choir… Without exaggeration: this choir really has to be the best choir in the world. Whether it's Bach, Beethoven, Berlioz or Brahms, this elite corps of singers always perfectly matches the right tone." – Trouw, Peter van der Lint