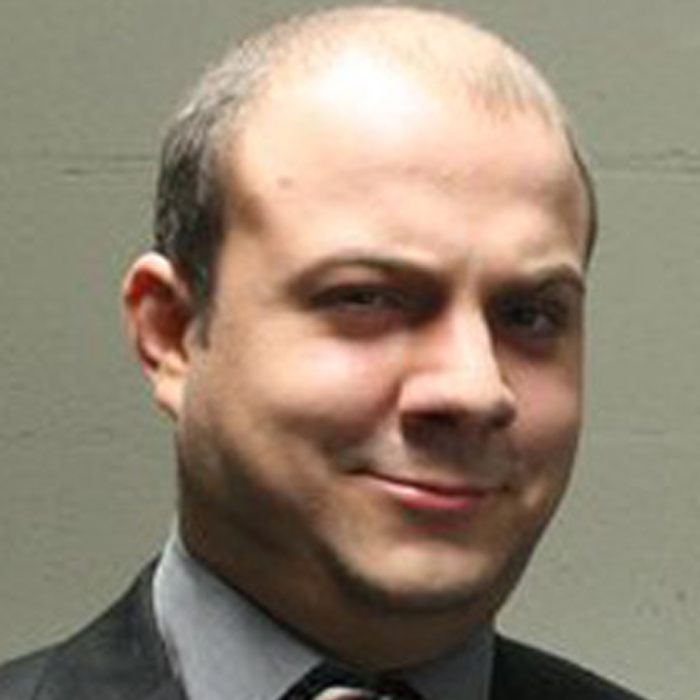 Gianluca Buratto
Gianluca Buratto started his music career studying saxophone and clarinet. He then attended the "Giuseppe Verdi" Conservatoire in Milan, where he studied singing under the guidance of Margaret Hayward. He attended numerous master classes with Sara Mingardo, Ernesto Palacio, Jaume Aragall and Dalton Baldwin.
In 2006 he won the First Prize in the "Ferruccio Tagliavini" Competition and was invited to sing Verdi's Requiem at the Festspielehaus in Bregenz and Mozart's Requiem at the Graf- Zeppelin-Haus in Friedrichshafen. He also won the Rotary Prize for Vocal Chamber Music in 2008 in Milan.
Mr. Buratto made his operatic debut in 2009 in the world premiere of Solbiati's Il carro e i canti at the Teatro Verdi in Trieste, after which numerous important collaborations followed: Stravinsky's Pulcinella and Mozart's Coronation mass KV 317 with the Orchestra Sinfonica in Lecce; the modern premiere of Cesti's Le Disgrazie d'Amore with the ensemble Auser Musici conducted by Carlo Ipata at the Teatro Verdi in Pisa; Bach's Cantata Nun komm, der Heiden Heiland BWV 61 with the Bach Consort Wien and Ruben Dubrovsky at the Musikverein in Vienna; Donizetti's Maria Stuarda (Giorgio Talbot) at the Teatro Verdi in Trieste; Fux's Cristo nell'Orto at the Osterklang in Vienna and at the Psalmfestival in Graz; Bach's B minor Mass with Jordi Savall in Madrid and Barcelona; both Mozart and Jommelli's La Betulia liberat with Riccardo Muti at the Salzburg Festival and in Ravenna; Mercadante's Virginia and Puccini's La Bohème at the Wexford Festival Opera; Ambrosini's Il killer di parole (world premiere), La Bohème and Rigoletto at the Teatro La Fenice in Venice; Mozart's Mass in C minor KV 427 at the Accademia Nazionale di Santa Cecilia in Rome under the baton of Kent Nagano; Bach's Johannes-Passion with Al Ayre Español and Eduardo Lopez-Banzo on tour in Spain and Germany; Tosca, La Bohème (Colline) under Riccardo Chailly, I Due Foscari and Thaïs in Valencia (Palau de les Arts); the world première of Solbiati's La leggenda at the Teatro Regio in Turin under Gianadrea Noseda; Le Nozze di Figaro (Bartolo) with Christophe Rousset in Barcelona; a revival of Ambrosini's Il killer di parole in Nancy; L'incoronazione di Poppea (Seneca) at the Innsbruck Festival; Macbeth at the Teatro alla Scala in Milan, at the Salzburg Festival, in Ravenna and Chicago with the Chicago Symphony Orchestra under the baton of Riccardo Muti; Thaïs in Lübeck; Maria Stuarda at the Maggio Musicale in Florence; again Mozart'sLa Betulia Liberata at the Wratislavia Cantans Festival in Wroclaw under Corrado Rovaris; Verdi's Requiem under Omer Meir Wellber andDie Walküre (Hunding) under Fabio Luisi at the Festival della Valle d'Itria in Martina Franca; Rota's Mysterium at the Teatro di San Carlo in Naples then in Milan with La Verdi Orchestra and at the Teatro Petruzzelli in Bari; Rigoletto at the Teatro Carlo Felice in Genoa, Fabio Luisi conducting and Il Cappello di Paglia di Firenze (Nonancourt) at the Maggio Musicale in Florence.
Past engagements also include: Monteverdi's L'Orfeo (Caronte and Plutone) in Nancy and in Paris under Christophe Rousset; Haendel'sRinaldo (Argante) at the Theater an der Wien under Riccardo Minasi; Haendel's Admeto in Krakow and Vienna (Theater an der Wien) with Alan Curtis; Beethoven's Missa Solemnis in Cagliari; Il Ritorno d'Ulisse in Patria (Nettuno) at the Zurich Opera House; La Bohème at the Baths of Caracalla with the Rome Opera and at the Dutch National Opera in Amsterdam; Donizetti's I Puritani (Giorgio) at the Maggio Musicale Fiorentino; Rigoletto at the Festival Internacional de musica de Bogotà and at the Macerata Opera Festival.
Most recently, he sang in Monteverdi's L'Orfeo (Caronte and Plutone) and Vespro della Beata Vergine with the Monteverdi Choir and John Eliot Gardiner on tour in the United States, at the BBC Proms in London and in Versailles; Puccini's La Bohème in Palermo; Donizetti's Le Duc d'Albe in London (Opera Rara); Die Zauberfloete (Sarastro) in Liège under Paolo Arrivabeni; Mascagni's Guglielmo Ratcliff at the Wexford Festival Opera; Verdi's Requiem in Manchester; Turandot (Timur) in Montpellier and a tour baroque concert with Cappella Mediterranea and Leonardo Alarcon.
Mr. Buratto has recently performed in his first solo recital at the Wigmore Hall in London; in Stravinskij's Oedipus rex with the Berliner Philarmoniker under J. E. Gardiner; Faccio's Amleto and Turandot at the Bregenzer Festspiele; Le nozze di Figaro (Bartolo) in Zurich; Don Giovanni (Commendatore) in Bilbao; Bach's Magnificat (concert and recording) with Sir John Eliot Gardiner and the Monteverdi Choir and Orchestra in London and on tour.
Gianluca Buratto has been selected for the 2017 Monteverdi project with John Eliot Gardiner and takes part in the worldwide tour of the Monteverdi's Trilogy: Il Ritorno di Ulisse in patria (Antinoo/ Tempo/Nettuno) L'Orfeo (Cartone/ Plutone) and L'Incoronazione di Poppea(Seneca) and in the Monteverdi's Vespri della Beata Vergine in Italy (Festival Monteverdi Cremona, Anima Mundi Pisa, St. Denis and Versailles.)
Future plans include: Colline in La Boheme at the Dutch National Opera & Ballet in Amsterdam; Verdi's Requiem in Zurich (Tonhalle) under the baton of Sir J. E. Gardiner; Raimondo in Lucia di Lammermoor in Trieste; Nonancourt in Il Cappello di paglia di Firenze at the San Carlo in Naples; Commendatore in Don Giovanni and Sparafucile in Rigoletto at the Teatro Regio in Turin; Schubert's Missa D950 at the Salzburger Festspiele under Riccardo Muti; Verdi's Requiem with the Monteverdi Choir and Orchestra under J. E. Gardiner in an Europe tour; Sarastro in Die Zauberfloete in Rome; Claudio in Händel's Agrippina under Ivor Bolton at the Bayerische Staatsoper in München and then in London (Royal Opera House Covent Garden); Rameau's Les indes galantes in Geneve under Rousset and Haendel's Alcina (Melisso) at the Glyndebourne Festival Opera.
His discography includes: Puccini's La Bohème (Colline) under Riccardo Chailly for Unitel; Handel's Giulio Cesare for Naïve; Rossi'sOratorio della Settimana Santa for MV Cremona; Lieder by Carl Philipp Emanuel Bach for Winter and Winter; Cavalli's Missa pro defunctisfor Tactus; Bassani's La tromba della divina misericordia.