28 Dec 2022
Haydn & Mozart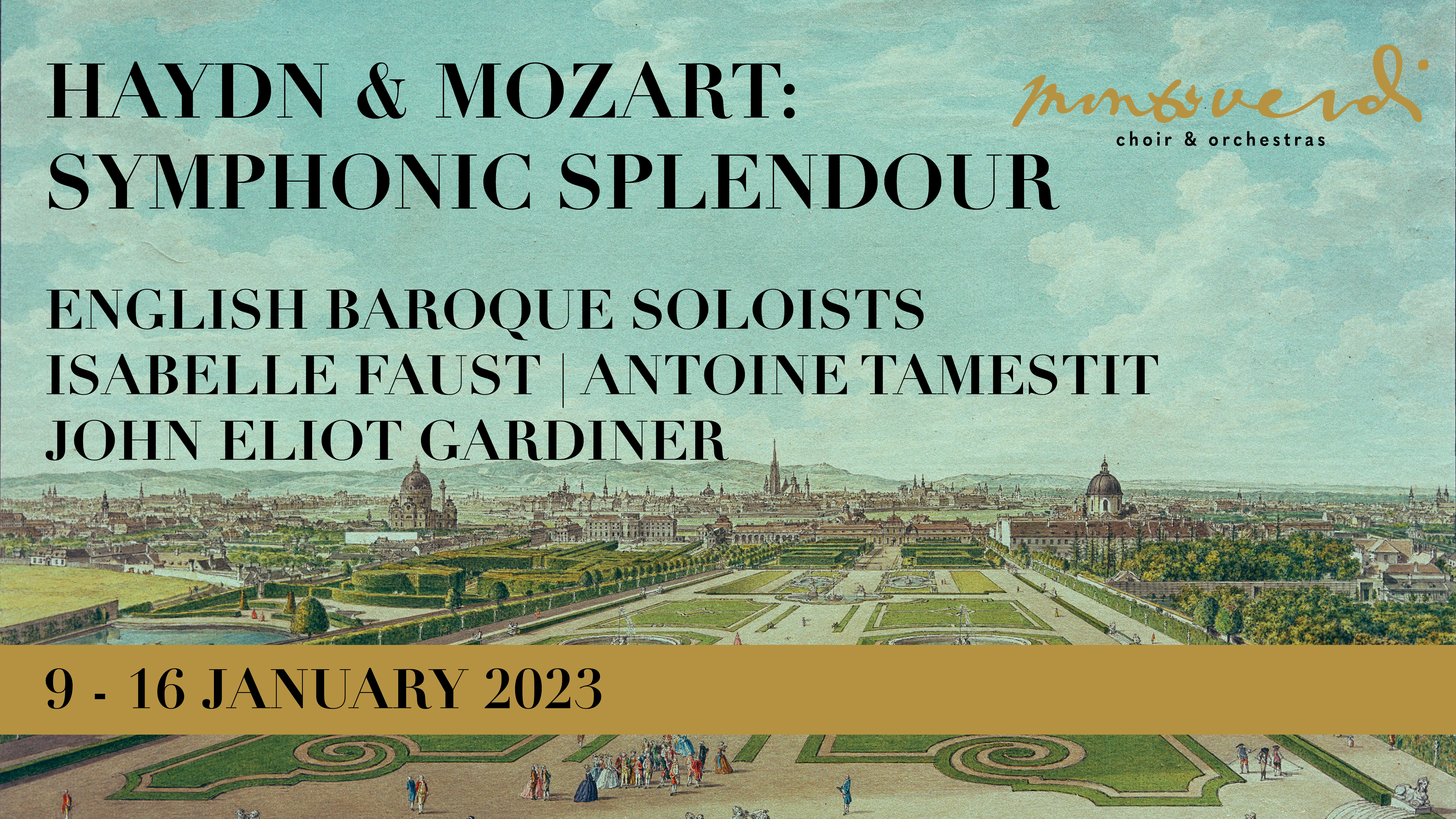 This January, the English Baroque Soloists and John Eliot Gardiner will be joined by Isabelle Faust and Antoine Tamestit, two of today's most revelatory and poetic performers, for a programme of dazzling orchestral works by Haydn and Mozart, with performances at: Kölner Philharmonie, Cologne (9 January 2023); Scharoun Theater, Wolfsburg, (10 January, 2023); Musikverein, Vienna (11 January 2023); St Martin-in-the-Fields, London (13 January 2023); Müpa, Budapest (14 January, 2023) and Isarphilharmonie, Munich (16 January 2023).
The programme comprises:
Haydn – Symphony No. 84 in E-flat major
Mozart – Sinfonia Concertante for violin, viola and orchestra in E-flat major
Mozart – Symphony No. 36 in C major "Linz"
Isabelle Faust and Antoine Tamestit are the ideal partners for Mozart's Sinfonia concertante, which plumbs the depths of pathos in its slow movement but also reveals sonorous grandeur, a yearning lyricism and, in the end, a skittish wit. Both soloists have worked closely with John Eliot Gardiner, the English Baroque Soloists and Orchestre Révolutionnaire et Romantique with great success. Highlights include Antoine Tamestit performing Berlioz's Harold en Italie in 2018, Isabelle Faust performing Mozart's Violin Concertos in April 2022 and both soloists performing Mozart's Sinfonia Concertante in 2018.
'[Mozart's First Violin Concerto's] clever if conventional prettiness and stretches of twirling virtuosity gave Faust another chance to display a formidable control – in high-wire, high-risk runs and passagework – that never overshadowed the colour and character of her playing.' Arts Desk - April 2022 – Boyd Tonkin
'What the French viola player Antoine Tamestit and John Eliot Gardiner's Orchestre Révolutionnaire et Romantique contrived to do in Berlioz's Byronic symphony Harold in Italy was sensational.' – The Times ★★★★★ – September 2018 Richard Morrison
'The violinist Isabelle Faust and the violist Antoine Tamestit broke away from the orchestral sound created by the composer himself into an instrumental dialogue in which the audience held their breath. High musical awareness combined with artistic maturity to a message of extraordinary beauty and perfection' - Feuilleton Scout, written by Stephan Reimertz – Mozartwoche – January 2018
This series of concerts marks the beginning of two significant years for Monteverdi Choir & Orchestras: John Eliot Gardiner's 80th Birthday in 2023 and the Monteverdi Choir's 60th Anniversary in 2024.
For more information and to book tickets, click here.