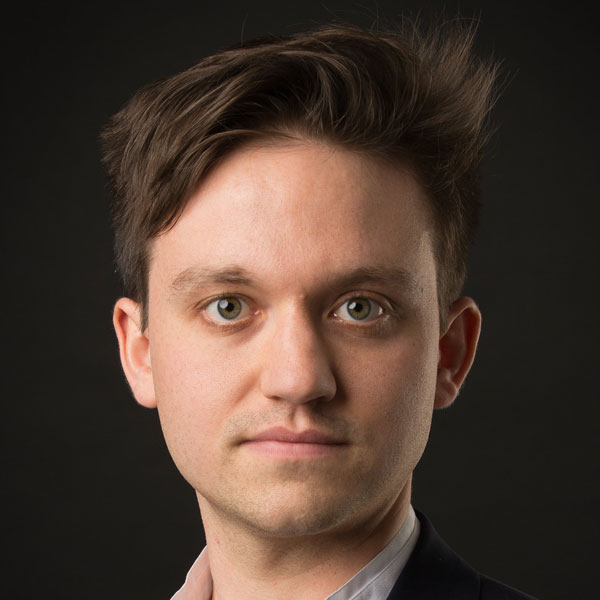 Hugo Hymas
British tenor, Hugo Hymas, was born and grew up in Cambridge. He first trained as a boy chorister in Great St Mary's Church Choir, studied the Clarinet through school and then joined the Choir of Clare College, Cambridge. In 2014 he graduated with an honours degree in Music from the University of Durham and then moved down to London to sing.
Hugo has performed on the concert platform as a soloist in several of Europe's great concert halls: Philharmonie Paris, Concertgebouw, KKL Luzern, Philharmonie Berlin and Royal Albert Hall. He is increasing demand on the international stage and is building a reputation as an Evangelist for Bach's Passions. In 2016 he performed the tenor arias in a critically acclaimed European tour of Matthäus-Passion with English Baroque Soloists (Sir John Eliot Gardiner), and later that year on a tour of Bach's Magnificat. He has also sung Arias and Evangelist in the Johannes-Passion recently in Nidarosdomen (Trondheim Barokk) and Croatia (Croatian Baroque Ensemble), and Arias for Messe H-Moll in Herkulesaal, München (Münchner MotettenChor, Benedikt Haag). He frequently works with the Scottish based baroque group Dunedin Consort (John Butt) and has sung the Evangelist role in Matthäus-Passion, and in 2017 performed the tenor solos in Handel's Messiah and Bach's Weihnachtsoratorium.
Other regular concert repertoire includes Monteverdi Vespers 1610, Mozart Requiem and Missa Solemnis and Britten Saint Nicholas. Hugo has also performed works from the French baroque period (Charpentier) recently in London at King's Place (with Orchestra of the Age of Enlightenment) and Wigmore Hall (with Early Opera Company).
On the opera stage Hugo has played the lead roles in Monteverdi's Il Combattimento di Tancredi e Clorinda, Purcell's Dido and Aeneas (Aeneas), Handel's Semele (Jupiter), Acis and Galatea (Acis and Damon) and Mozart's The Magic Flute (Tamino), The Marriage of Figaro (Basilio). In 2017 he toured Monteverdi's three operas Il ritorno d'Ulisse in patria, L'incoronazione di Poppea and L'Orfeo - with English Baroque Soloists, which culminated with performances in the Lincoln Centre, New York. Hugo has given also song recitals across the UK and was Britten-Pears young artist in Aldeburgh.
With recordings scheduled in 2018, Hugo's current discography is: Apocalypse (Sigiswald Kuijken 2015), Antonio Lotti Crucifixus (Ben Palmer 2016), Martin Peerson A Treatie of Humane Love (Fretwork 2016), Bach Matthäus-Passion (John Eliot Gardiner 2017), The Other Vespers (Robert Hollingworth 2017), and Bach Magnificat, Süßer Trost (John Eliot Gardiner 2017).