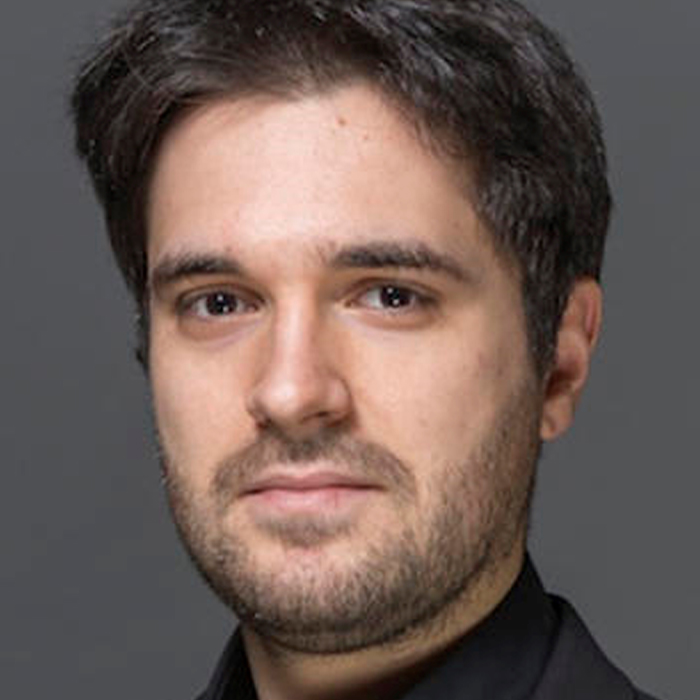 Carlo Vistoli
After studying classical guitar and piano, Carlo Vistoli began his vocal training as countertenor in 2007, first with Fabrizio Facchini and Michele Andalò, then with William Matteuzzi and Sonia Prina. He also participated in masterclasses with Monica Bacelli, Romina Basso, Marijana Mijanović and Sara Mingardo. He attended the Conservatorio Girolamo Frescobaldi in Ferrara (Renaissance and Baroque Singing) as well as Alma Mater University in Bologna (Cultural Heritage).
Carlo was a Finalist in both the 2012 «Pietro Antonio Cesti» Baroque Singing Competition in Innsbruck and the 2013 Sacred Music Competition in Rome, and he was awarded First Prize at the 2012 Cleto Tomba Competition in Castel San Pietro Terme (Bologna); the Audience Prize and the "Farinelli" Prize at the 2012 Città di Bologna Competition; the "Primo Palcoscenico" Award of the «Maderna» Conservatory of Cesena (Italy); Second Prize at the 2013 «Francesco Provenzale» Baroque Singing Competition in Naples; and First Prize at the 2013 Renata Tebaldi Competition (Baroque Section) in San Marino.
He made his operatic debut singing the Sorceress in Purcell's Dido & Aeneas in Cesena and Ravenna. Opera highlights to date include Licida in Mysliveček's L'Olimpiade at Bologna's Teatro Comunale; the title role in Handel's Tamerlano in Poznań with Les Ambassadeurs under Alexis Kossenko; King Arthur in Rimini, Rome and Bologna under Luca Giardini; and his role debut as Tolomeo (Giulio Cesare) with Opera Fuoco conducted by David Stern in Shanghai – the first performance of a complete Händel opera in China. He also sang Peritoo in Cavalli's Elena in Nantes and Rennes with Leonardo García Alarcón. He is regularly invited to the Poznań Baroque Festival, where he collaborates with the Ensemble Kore.
In 2015 Carlo was chosen for Le Jardin des Voix – Les Arts Florissants' baroque academy for young professionals, led by William Christie and Paul Agnew. Within this scheme, he has toured France, Australia, Japan, China and Moscow and has given concerts in Paris, at New York's Lincoln Center and the Lucerne Festival. In June 2015 he made his debut at the Ravenna Festival in Adriano Guarnieri's new opera L'amor che move il sole e l'altre stelle, revived in 2016 at Spoleto's Festival dei Due Mondi. He then sang Febo (Caldara's Dafne) at La Fenice in Venice under Stefano Montanari, and the Spirit (Dido & Aeneas) at Turin's Teatro Regio under Federico Maria Sardelli.
In spring 2016 he took the role of Ottone (Händel's Agrippina) in Brisbane, for which he was awarded a Helpmann Award; that production came from the Göttingen Händel Festival and was conducted by Erin Helyard and directed by Laurence Dale. He then sang Arvo Pärt's Stabat Mater in Turin and at Milan's MITO Festival with Mario Brunello. In December 2016 he sang Händel's Messiah with William Christie on an European tour (Baden-Baden, Barcelona, Budapest, London, Madrid, Paris, Versailles).
In 2017, the 450th anniversary year of the death of Claudio Monteverdi, Carlo was engaged in an extensive tour (Europe – Berlin, Edinburgh, Luzern, Paris, Salzburg, Venezia; and America – Chicago and New York) with the English Baroque Soloists and Sir John Eliot Gardiner, playing Umana Fragilità in Il ritorno d'Ulisse in patria and Ottone in L'incoronazione di Poppea. He also participated in L'Orfeo as Pastore with with Les Arts Florissants and Paul Agnew in Caen, Vienna, Katowize, Versailles, Madrid and Paris. He performed the same role with Cappella Mediterranea and Leonardo García Alarcón in Rotterdam, Bruxelles and Bruges. Other concerts with music by Monteverdi include the florilège I 7 Peccati Capitali, in Cremona, again with Cappella Mediterranea, and a concert in the Basilica of San Petronio in Bologna, with excerpts of the Selva Morale. In December, he concluded the year with a European tour (Berlin, Caen, London, Paris, Versailles) with Les Arts Florissants and William Christie, singing the Selva Morale.
In summer 2017, he participated in a new production of Cavalli's Erismena singing the role of Idraspe at the Aix-en-Provence Festival under the baton of Alarcón and his ensemble Cappella Mediterranea, Jean Bellorini directing. This show will be revived in Versailles and Saint-Denis. In autumn 2017, he has a concert in his native town, Lugo, for Rinaldo Alessandrini's Purtimiro Festival, with Ensemble Abchordis. After this, he departs for an additional American tour (Berkeley, Bogotá, Los Angeles, Sonoma) of Purcell's Dido & Aeneas, singing the Sorceress, again with Les Arts Florissants and William Christie.
In 2018, he sings Ruggiero in Vivaldi's Orlando furioso in a production of La Fenice in Venice, under Diego Fasolis, and Ottone again in L'incoronazione di Poppea, at the Salzburg Festival, William Christie conducting with a new staging by Jan Lauwers. He sings also Artabano in Hasse's Artaserse for Pinchgut Opera, in Sydney. Additional season highlights include Händel's Jephtha in Hannover, Israel in Egypt in Oslo with Accademia Bizantina, Bach's Johannes-Passion with Enrico Onofri in Lisbon.
In 2019 he will sing Ulisse in Sacrati's La finta pazza in Dijon with Leonardo García Alarcón and the title role in Gluck's Orfeo ed Euridice at Teatro dell'Opera di Roma, conducted by Gianluca Capuano and Robert Carsen directing. A new tour with Sir John Eliot Gardiner will also involve Carlo as Athamas in Händel's Semele: concerts will be held in Barcelona, London, Paris and Milano's Teatro alla Scala.
Carlo has recorded for Harmonia Mundi, Brilliant, Tactus and Bongiovanni. His first solo recital has been recently released by Arcana: Arias for Nicolino (music by Händel, Pergolesi, Sarro, A. Scarlatti), with Talenti Vulcanici della Pietà de' Turchini, conducted by Stefano Demicheli. With this program he performed at the Quirinal Palace in Rome.