25 Nov 2022
Sir John Eliot Gardiner awarded the honour of "Cavaliere di Gran Croce" of the Order of "Stella d'Italia"
On Thursday 24 November 2022, Sir John Eliot Gardiner was awarded the honour of "Cavaliere di Gran Croce" of the Order of "Stella d'Italia". The honour was presented to Sir John Eliot by the Ambassador of Italy, Inigo Lambertini, at an exclusive ceremony at the Embassy of Italy, London. The ceremony was attended by close friends of Sir John Eliot and the Monteverdi Choir and Orchestras and included performances from members of the Monteverdi Choir.
"Cavaliere di Gran Croce" of the Order of "Stella d'Italia" is the highest of the five ranks granted by the President of the Republic of Italy and was awarded to Sir John Eliot for his commitment to promoting Italian music, which has greatly contributed to the spread of Italian culture both within Italy and internationally.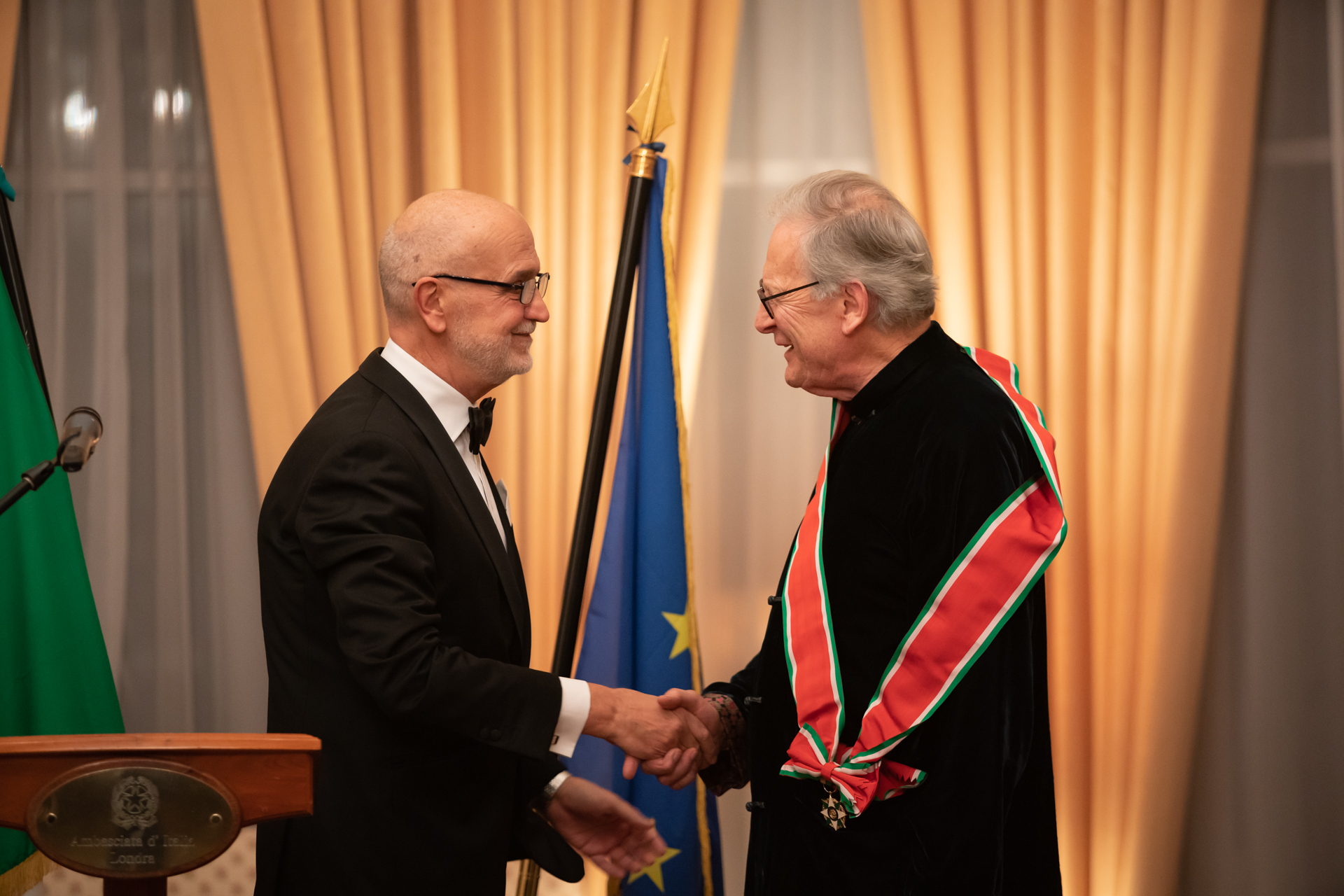 Sir John Eliot Gardiner's work as Founder and Artistic Director of the Monteverdi Choir & Orchestras has marked him out as a key figure both in the early music revival and as a revelatory conductor of an exceptionally broad range of music. His performances of Italian music have breathed new life into little-known repertoire and given composers such as Monteverdi their rightful place on international concert and opera stages.
Sir John Eliot Gardiner has performed in many of the most important theatres and festivals in Italy, including Milan's Teatro alla Scala and the Maggio Musicale Fiorentino. Performance highlights include conducting and co-directing Monteverdi's three surviving trilogy of operas in two complete cycles at La Fenice in 2017, as well as his legendary interpretation of Monteverdi's Vespers of 1610, which has been heard in Perugia, Cremona, Mantua and Venice.