8 Oct 2018
MCO announce first ever Assistant Conductor
We are thrilled to announce the appointment of Dinis Sousa as the first ever Assistant Conductor of the three Monteverdi ensembles.
Sousa's appointment represents a significant landmark for the ensembles, which have been solely directed by John Eliot Gardiner since he founded the Monteverdi Choir 54 years ago. This new role was created to give a young conductor the opportunity to work alongside John Eliot Gardiner and to be involved in the process of musicological research, preparation, and rehearsing associated with all MCO projects and tours.
The new Assistant Conductor will play a major part in upcoming projects with MCO, such as the current Berlioz Series tour of Europe and the US, the Verdi Requiem tour later this autumn, and next year's Handel and Berlioz projects, alongside leading new education and outreach initiatives.
Here's what Dinis had to say…
'I am honoured to be the first recipient of this new post with the Monteverdi Choir and Orchestras. John Eliot's artistic vision is uncompromising in its ambition, leading to revelatory performances and unforgettable musical experiences for all involved. His family of singers and orchestral players has built up a trust over decades which has enabled them to forge this unique identity. I feel privileged to become part of this family and I know that this opportunity will enable me to develop as a musician and, I hope, to contribute to the work of the ensembles.'
Sir John Eliot Gardiner commented,
'The appointment of Dinis Sousa as Assistant Conductor of our three ensembles gives me great pleasure. It links in with our Apprentices Programme that has been in existence since 2007 and it acknowledges the impressive talent of this outstanding, versatile young musician. It further cements the ties he has established with us over the past two seasons, in which he has fulfilled a number of tough assignments. Dinis is already launched on a career as a conductor with his own ensemble in Portugal, and I wish him all success.'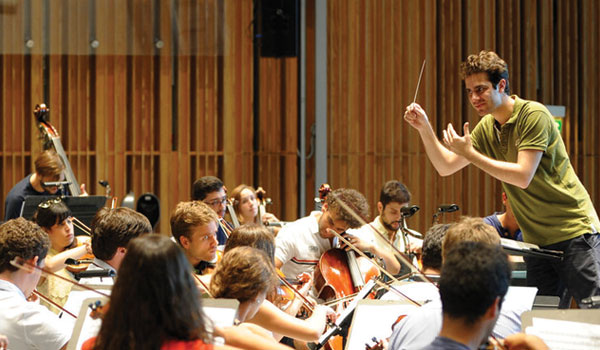 The Portuguese conductor first met John Eliot Gardiner in 2012 while studying at the Guildhall School of Music and Drama, and subsequently attended rehearsals at which he closely watched Gardiner and his ensembles at work. In the two years leading up to his appointment, Sousa had the opportunity to assist on large-scale projects with the Monteverdi Choir, the English Baroque Soloists and the Orchestre Révolutionnaire et Romantique, both in London and on tour. This saw him conduct members of the Choir in a critically acclaimed performance of Berlioz's Roméo et Juliette at the 2016 BBC Proms, and take charge of several rehearsals in this year's Bach Cantata Ring tour.
To find out more about Dinis and his work as a conductor and pianist, visit www.dinissousa.com