7 Nov 2023
Dinis Sousa to conduct Monteverdi Choir and Royal Concertgebouw Orchestra in Brahms's 'Ein Deutsches Requiem'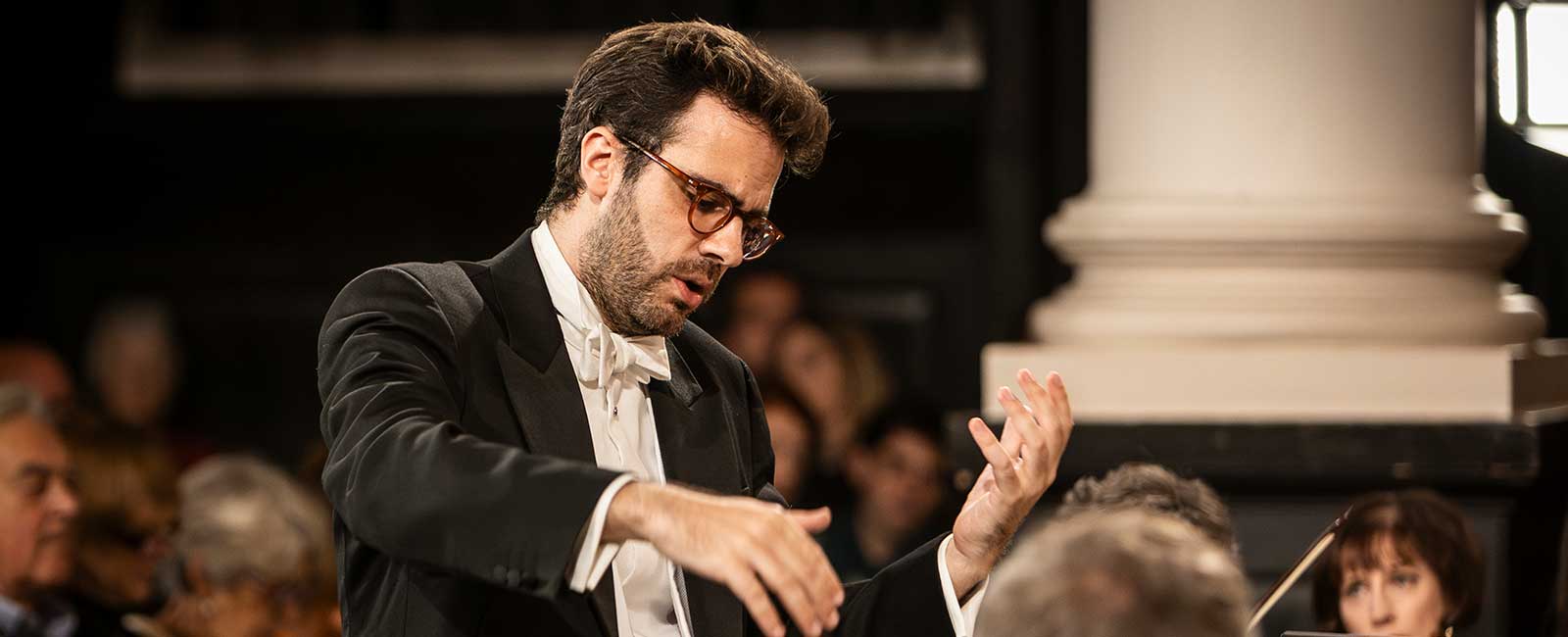 Dinis Sousa will conduct the Monteverdi Choir and the Royal Concertgebouw Orchestra for three performances of Brahms's Ein Deutsches Requiem (A German Requiem) in Amsterdam on 29 February, 1 and 3 March 2024. Brahms's Requiem, featuring soprano Lenneke Ruiten and baritone Christian Gerhaher, will be preceded by two unaccompanied choral pieces to further showcase the Choir: Heinrich Schutz's Selig sind die Toten, die in dem Herrn sterben and JC Bach's Der Gerechte, ob er gleich zu zeitlich stirbt. These concerts follow the Monteverdi Choir and Orchestras' recent critically acclaimed tours of North America and Europe, which Sousa also led from the podium.

Sousa became Assistant Conductor of the three Monteverdi ensembles in 2018 before being appointed as MCO's Associate Conductor in 2021 - he is the first person in the history of the Monteverdi Choir & Orchestras to hold either position. In October 2023 Sousa conducted the Monteverdi Choir and English Baroque Soloists' North American tour for performances of Bach's Mass in B minor and Handel's L'Allegro, il Penseroso ed il Moderato at Carnegie Hall in New York; Harris Theater in Chicago; Princeton and Ottawa. The tour concluded in London and received critical acclaim, with The Arts Desk praising, "The splendour of a very substantial Monteverdi Choir held us in thrall to the last." In August/September 2023, Sousa stepped in to lead the Monteverdi Choir and the Orchestre Révolutionnaire et Romantique's European tour of Berlioz's Les Troyens and the reviews unanimously celebrated the "excitement and emotional intensity" he brought to Berlioz's epic opera.

The sought-after Portuguese conductor has been Principal Conductor of the Royal Northern Sinfonia since April 2021. He is in high-demand with other esteemed ensembles across Europe and is Founder and Artistic Director of Orquestra XXI, an orchestra of musicians drawn from the global Portuguese diaspora.


Photo: Paul Marc Mitchell