Current Monteverdi Apprentices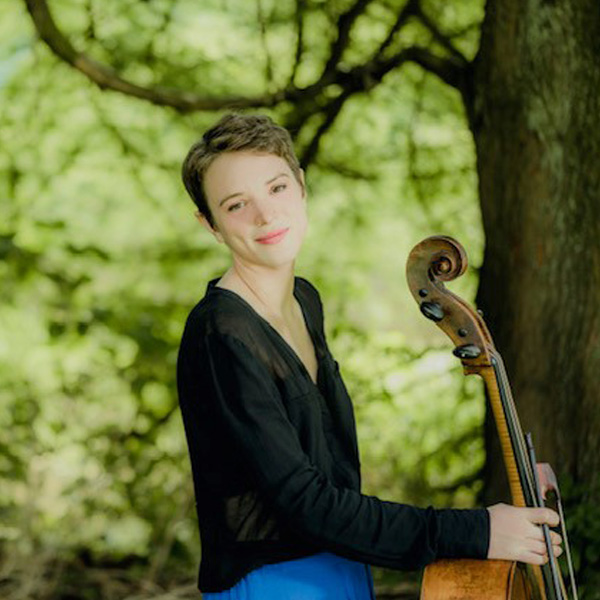 Octavie Dostaler-Lalonde
Cello
Octavie Dostaler-Lalonde performs on both the modern and historical cello across Europe, the UK and North America. After studying with Denis Brott and Carole Sirois at the Conservatoire de Musique de Montréal, Octavie received the Prix avec Grande Distinction. She then studied baroque cello with Susie Napper and later with Viola de Hoog in Amsterdam.
Octavie has won prizes at national competitions in Canada as well as international competitions (Concours Corneille, Yamanashi Early Music Festival, International Graun Brothers Competition). She has received scholarships from the Canada Council for the Arts, the Banff Centre for Arts and Creativity, and the Amsterdam Fonds voor de Kunst. She was selected to be part of Handel House Talent in the 2017/18 season.
As a soloist and chamber musician, Octavie has performed in festivals and concert series such as Folle Journée in Tokyo, Festival de Royaumont, the Grachtenfestival, Festival Montréal Baroque, Bachfest Leipzig, Oude Muziek Utrecht Fabulous Fringe, Musica Antica da Camera and La Nouvelle Athènes. Recent collaborations include solo recitals and recordings with Artem Belogurov (piano, fortepiano and harpsichord), a CD with her chamber group Postscript, and performances with Ensemble Masques, Vox Luminis, Amsterdam Corelli Collective and Erik Bosgraaf. As an orchestral musician, she has played with the Orchestre Symphonique de Montréal, the Orchestra of the Age of Enlightenment and the Nieuwe Philharmonie Utrecht. In 2018, she directed the festival Romberg Dagen at the Conservatorium van Amsterdam.
Octavie has recorded for Brilliant Classics, TRPTK and Gamma Musica. She is an avid researcher and enjoys applying the latest finds to her playing. Her current CAC-funded research project, the Romantic Lab, focuses on Romantic performance practice, through the imitation of historical recordings. Octavie has the pleasure to play a Thomas Dodd cello from 1800 on loan from the Nationaal Muziekinstrumenten Fonds of the Netherlands, as well as her own Johann Michael Alban cello from 1700-1730.
---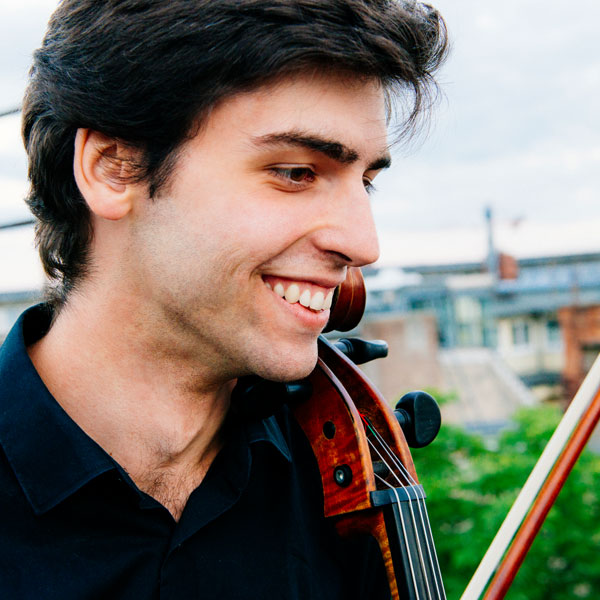 Víctor García
Cello
Víctor García García was born in Seville in 1994. He obtained his bachelor's degree and a master's degree in Soloist Performance at the University of Arts in Berlin, in the class of Prof. Jens Peter Maintz. His interest in the Historical Performance led him to continue his education with D. Watkin and J. Butt at the Royal Conservatoire of Scotland. He has obtained a master's degree in Historically Informed Performance Practice and is now pursuing a Doctorate in Performance, focused on the performance practice of cellists in the time of Beethoven.
Victor is part of the Monteverdi Apprentices Programme at the Orchestre Révolutionnaire et Romantique, the Collegium Vocale Gent Academy and the Academy of the Balthasar Neumann Ensembles. He also performs with ensembles such as the Orchestre des Champs-Élysées and the Millennium Orchestra.
He won the Second Prize in 2013 at the Witold Lutoslawski Cello Competition in Warsaw and has received the Prize "Andalusian of the Future" in the cultural category in 2020. In 2021, he received the AAOBS-Femás scholarship of the Baroque Orchestra of Seville.
As a soloist, he has performed with orchestras such as the Ensemble Esperanza, the Orchester am Treppenhaus Hannover, the Malaga Philharmonie and the Real Orquesta Sinfónica de Sevilla. He is a founding member of the IMPULSIA Ensemble and artistic director of the Festival Impulso in La Palma (Spain).
In the field of Chamber Music, he has taken part in festivals like the Paessaggi Musicali Toscani, Yellow Barn Festival in the USA, the Musethica festivals in Spain, Sweden, France, Israel and Germany, the Prussia Cove International Musicians Seminar and the East Neuk Retreat.
---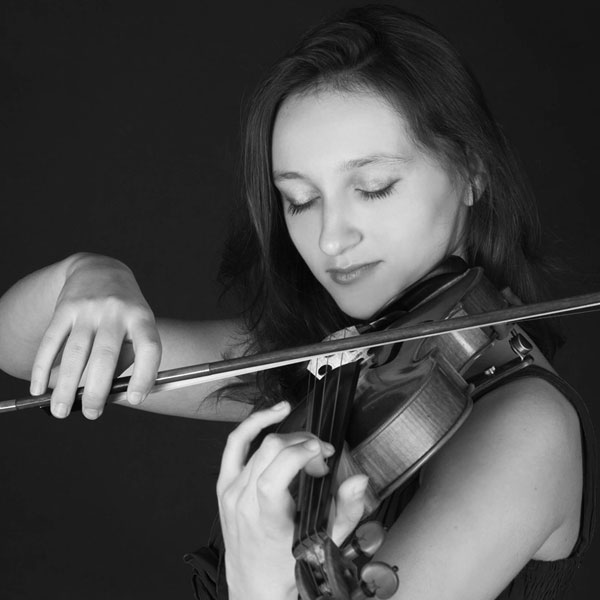 Xenia Gogu
Violin
Xenia Gogu was born in Moldova and currently lives in the Netherlands, where she holds a violin position with the Noord Nederlands Orkest. She combines her job with other chamber music and solo artistic projects. Her interest in historically-informed performance practice resulted in her taking part in the Monteverdi Choir and Orchestras' Apprentices Programme under the baton of Sir John Eliot Gardiner and she has also taken part in the Collegium Vocale Gent Academy, under Philippe Herreweghe.
Xenia recently finished her master's degree at the Hochschule für Musik und Theater Hamburg, having previously completed a bachelor's degree at the Hanns Eisler Hochschule für Musik in Berlin. Before this, she studied at the Escuela Superior de Música Reina Sofía in Madrid. She has taken part in masterclasses with prestigious violinists such as Natalia Boyarski, Mauricio Fuks, Evgeny Grach, Bernhard Forck, Amandine Beyer and Sirkka-Liisa Kaakinen-Pilch, among others.
Further orchestra experience includes the Akademie Programme at the Runfunks Sinfonieorchester Berlin, as well as regular collaborations with Kammerakademie Potsdam, Deutsche Kammerakademie Neuss am Rhein and Gran Teatre Liceu Orchestra in Barcelona. She is also a founding member of IMPULSIA Ensemble, with whom she played in the Konzerthaus Wien and organised a new festival in La Palma, Spain.
As a chamber musician she is a member of Musethica and has participated in festivals in Spain, France, and Sweden; she has also attended lessons with Heime Müller, Günter Pichler, Eckard Runge, Jonathan Brown (Casals Quartet) and the Quiroga Quartet. In 2019-2020 she was a scholarship holder of the Oscar and Vera Ritter Foundation.
---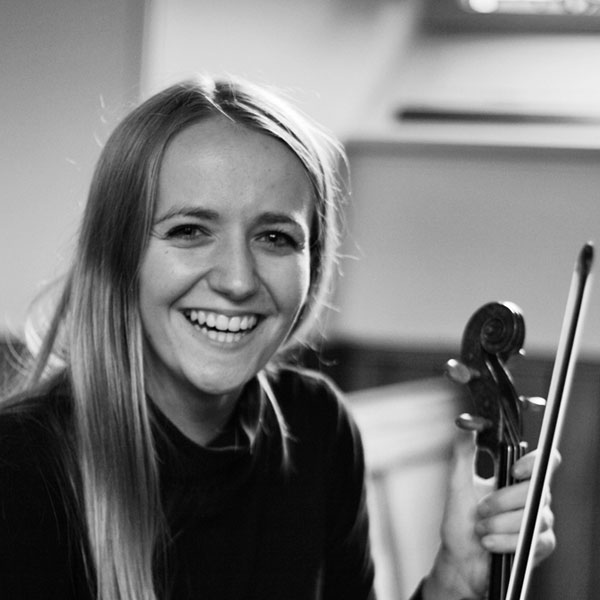 Hatty Haynes
Violin
Hatty is a violinist enjoying a varied musical life performing as a recitalist, chamber musician and orchestral player across the UK and in Europe on both modern and historical instruments.
She has performed extensively throughout the UK in venues such as Wigmore Hall, Barbican, Royal Albert Hall, Royal Festival Hall, LSO St Luke's and St John's Smith Square, and at festivals including BBC Proms, Southwell Music Festival, IMS Prussia Cove, Kyoto International Students Festival and Vilalte Chamber Music Festival. Hatty has enjoyed collaborating with artists such as Alexander Melnikov, Andrew Marriner, Levon Chilingirian and Milos Karadaglic.
Hatty is a keen orchestral musician and is currently an Apprentice with Sir John Eliot Gardiner's Orchestre Revolutionnaire et Romantique, gaining tutelage from ORR principals Peter Hanson, Robin Michael and Oliver Wilson. She has also played with ensembles including Scottish Chamber Orchestra, London Symphony Orchestra, Orchestra of the Age of Enlightenment, London Sinfonietta, London Mozart Players, 12 ensemble, Avison Ensemble and has recently been a guest 1st violin with the Gildas Quartet.
From 2020-21, Hatty held a fellowship at the Guildhall School of Music and Drama where she completed her Masters degree with Distinction in 2020. Prior to this, Hatty gained a 1st Class Bachelor of Music (Honours) from the Royal Academy of Music. Her studies have been generously supported by Help Musicians UK, the Countess of Munster Musical Trust, the Tillett Trust, Thompson Educational Trust and the Craxton Memorial Trust.
During her studies, Hatty was awarded the J&A Beare Bow prize which is awarded annually to the most promising graduating student in the strings department. She was also the recipient of numerous awards including the Waddell Prize, John Waterhouse Prize, Amadeus Prize, Sir John Barbirolli Prize and the Wolfe Wolfinsohn String Quartet Prize.
Hatty has studied with Krysia Osostowicz, Stephanie Gonley, So-Ock Kim, and Nicolette Moonen and Pavlo Beznosiuk (baroque violin). She is incredibly grateful to the Albert Cooper Trust, Lumbs Foundation, Kathleen Trust and the Stephen Bell Trust for their support and to the Harrison Frank Family Foundation for the generous loan of a Baldantoni violin.
---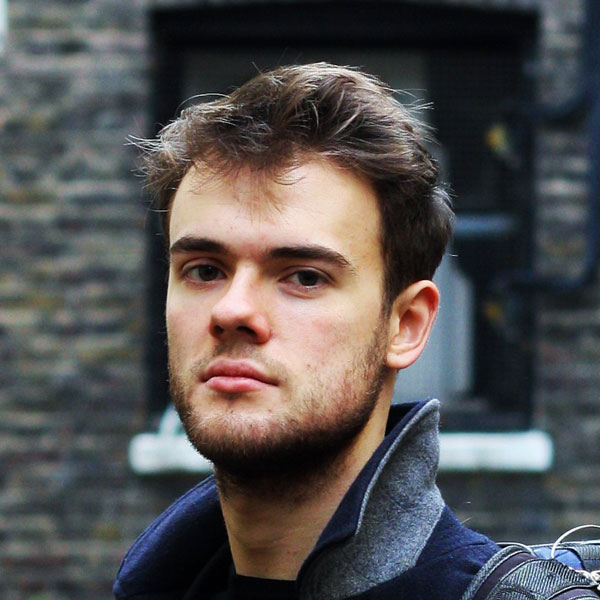 Oscar Holch
Viola
Oscar Holch is currently a Fellow at the Guildhall School of Music and Drama where he studies with David Takeno. He previously studied at the Royal Academy of Music, where he was awarded the Max Gilbert Prize. He has participated in masterclasses with Tatjana Masurenko, Garth Knox, Thomas Riebl, Hartmut Rohde and Hariolf Schlichtig. As a chamber musician, he has appeared at festivals around the UK and in Europe including the BBC Proms, Cowbridge, Beaminster, Ryedale, Fundación MonteLeón and Vilalte festivals.
Oscar has a keen interest in contemporary music and has performed the chamber music of Colin Matthews at a BBC Proms Extra concert celebrating the composer's 70th birthday, which was broadcast on BBC Radio 3. He was also fortunate to collaborate with Latvian composer Pēteris Vasks in a concert celebrating his 70th birthday. He recently performed in a BBC Symphony Orchestra Total Immersion concert that was broadcast on BBC Radio 3, exploring the music of composers who lost their lives in the First World War.
As an orchestral musician he has performed as principal viola with the Guildhall Symphony Orchestra and has performed in side-by-side projects with the London Symphony Orchestra, London Mozart Players, Australian Chamber Orchestra and Academy of Ancient Music and collaborated with conductors such as Sir Simon Rattle, Robin Ticciati, Christian Thielemann, Semyon Bychkov and Esa-Pekka Salonen. During his studies, he was generously supported by the Leo Birnbaum Scholarship Trust and the Countess of Munster Musical Trust and he is grateful to The Cherubim Music Trust for the loan of his instrument.
---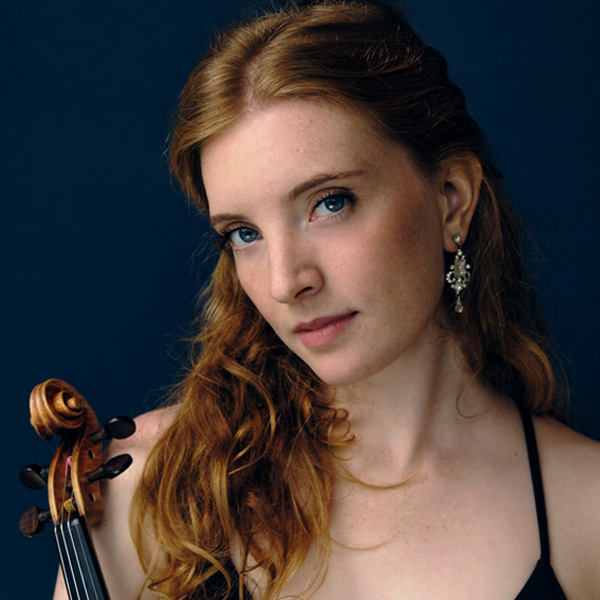 Gabi Jones
Violin
Born in 1995, violinist Gabi Jones studied for ten years at Chetham's School of Music, before graduating from Trinity College, Cambridge in 2016. Whilst at Chetham's, she was awarded the school's prestigious concerto and chamber prizes, and led the Chetham's Symphony Orchestra, under conductors such as Paul Mann, David Hill and Paul McCreesh. She has performed as a soloist and chamber musician across the UK and Europe, including appearances at the Wigmore Hall, Bridgewater Hall and Cadogan Hall, and combined with musicians such as Leon McCawley, Tom Poster, Nicola Benedetti and the Endellion Quartet.
Gabi held a University Instrumental Award during her time at Cambridge, giving numerous chamber and solo recitals across the University. She led the University Chamber Orchestra, performing under the baton of Sir Roger Norrington, Carlos Izcaray and Nicholas Collon. In 2013, Gabi co-founded the Trinity College Chamber Orchestra, performing regularly with the ensemble both as leader and concert soloist.
Following a master's degree at the Royal College of Music with Detlef Hahn, Gabi pursued an artist diploma in historical performance, studying with Lucy Russell and Bojan Cicic. She was awarded the Constant and Kit Lambert fellowship for 2019-20, during which time she led and directed various projects in historical performance. She performs regularly with ensembles such as Florilegium, the Orchestra of the Age of Enlightenment, the Academy of Ancient Music, the Hanover Band and Wond'rous Machine. Her historical violin is a 1756 Jacob Kloz which is generously loaned by the Cherubim Trust.
---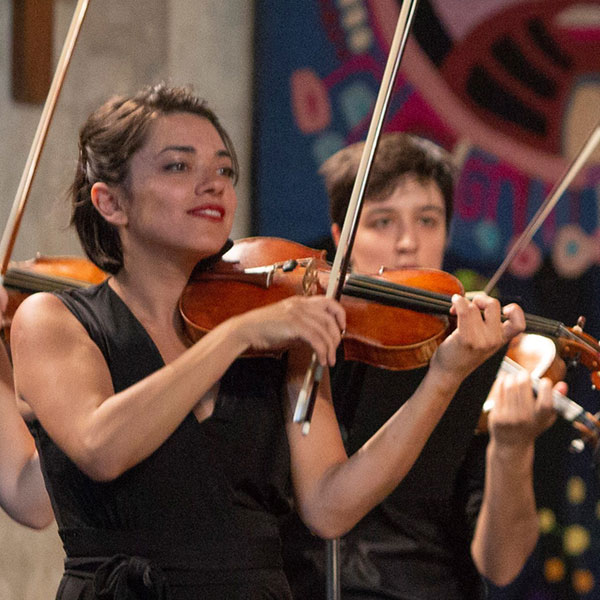 Chloé Jullian
Violin
Chloé graduated with a Master of Arts in Music Pedagogy and majored in Instrumental Teaching from the Haute école de musique de Genève under Patrick Genet (violin), Gabor Takács-Nagy (quartet) and Florence Malgoire (baroque violin).
She discovered her passion for period instruments at the Jeune Orchestre Hector Berlioz (Les Siècles directed by François-Xavier Roth), and started to work with them in 2015. With this orchestra, she has had the opportunity to play a wide range of repertoire on period instruments from Handel to Webern, Debussy, Ravel, Berlioz and Stravinsky. She has worked in countries such as China, Japan, Mexico, Italy, Germany, England and France. With this ensemble, she has also been involved in education projects (parent-child workshops, coaching within an amateur orchestra and hospital visits at the Necker Children's Hospital). Alongside this, Chloé completed a Master's in Research and Ensemble Playing on period instruments (classical and romantic repertoire) in partnership with the University of Poitiers and the Abbaye de Saintes. During these workshops, she met conductors, musicians and musicologists specialising in historical performance practice: William Christie, Philippe Herreweghe, Amandine Beyer, Hervé Niquet, Clive Brown, Kai Köpp, Marten Root and Lorenzo Coppola.
Today, Chloé lives and works in Paris, where she combines her passion for orchestral and chamber music and teaching. She plays with Les Siècles, Orchestre des Champs-Elysées, Les Frivolités Parisiennes, and in chamber ensembles of different sizes. She currently teaches at the Conservatoire de Villeneuve-le-Roi.
---
Eglantine Latil
Cello
Eglantine began playing the cello at the La Rochelle Conservatoire and joined Marc Coppey's class at the Conservatoire régional de Paris at the age of 13. After receiving the Diplôme d'Études Musicales in 2007, she studied with Raphaël Pidoux in Paris and subsequently with Laurentiu Sbarcea at the Hochschule für Musik und Tanz Köln. There she received her bachelor's degree in modern cello and chamber music followed by a master's degree in baroque cello in the class of Rainer Zipperling.
Eglantine performs regularly with orchestras including Concerto Köln (Kent Nagano, Wagner project), Insula Orchestra (Laurence Equilbey), Kölner Akademie (Michael Willens) and Das Neue Orchester (Christoph Spering). An active chamber musician, she has played with Christophe Coin, Davit Melkonyan, Richard Gwilt, Ingeborg Danz, Natalia Lentas and others. Since 2018, she has contributed to a series of concert-lectures on music and philosophy together with her husband François Thomas (Université Paris-Nanterre).
Eglantine has expanded her knowledge of historical performance through participation in the academy of Freiburger Barockorchester (Guido Larisch), the Jeune Orchestre Européen Hector Berlioz (François-Xavier Roth, Robin Michael) and the Jeune Orchestre de l'Abbaye aux Dames (Hervé Niquet, Clive Brown, David Watkin, Peter Hanson, Hilary Metzger etc.).
Alongside her musical endeavours, Eglantine is a trained practitioner of the Feldenkrais method, which she has taught since 2018, in particular to students at the Hochschule für Musik und Tanz Köln.
---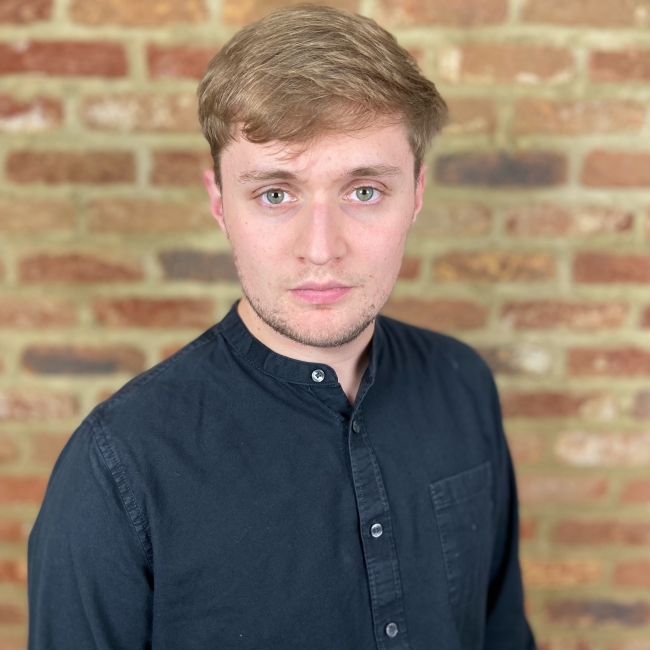 William McGahon
Violin
William McGahon is a young professional violinist enjoying a varied musical life as a historical performer, chamber-musician, recitalist and orchestral player performing in the UK and across Europe. In 2019, William graduated from the Royal Northern College of Music gaining a First-Class Honours degree, studying with Julia Hanson. William recently undertook a year of study on the JOA historical violin masters in Saintes, France, where he studied with Margaret Faultless. William's part-time masters course was very generously supported by the M. Delage Scholarship.
In November 2019, William was asked to join the Manchester Collective on their UK tour of 'The Centre is Everywhere' performing Ligeti, Vivaldi, Bach and a new work by Edmund Finnis alongside some of the UK's most celebrated string players and chamber-musicians. This project included the recording of Manchester Collective's debut EP 'Recreation' (2020) and subsequent LP 'The Centre is Everywhere' (2021).
In September 2020, William was invited to take part in the Collegium Vocale Gent Academy in Belgium where he now performs regularly with Philippe Herreweghe. William has recently been appointed an extra-player with the critically-acclaimed Sinfonia Cymru, and is looking forward to a tour of Wales and performance at the Wigmore Hall in November 2021 with Timothy Ridout. William will also join the Orchestra of the Age of Enlightenment in November 2021 for a project directed by Bruno Weil. William is a former scholarship holder for Musique á Flaine in 2017/18, Britten-Pears Baroque Young Artist 2018 and OAE Academist 2019/20.
In July 2021, William was chosen to perform La vie Parisienne with Les Musiciens du Louvre in a production in the Theatre de Champs-Elysées, Paris under Romain Dumas between December 2021 and January 2022.
---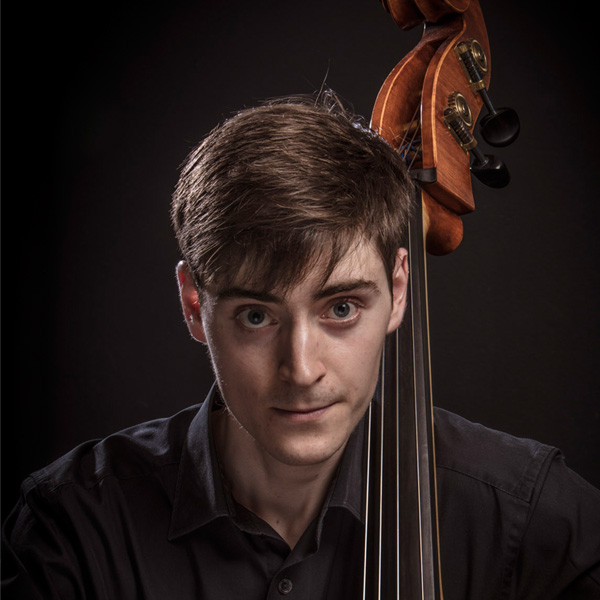 Miguel Pliego García
Double Bass
Born in Madrid in 1996, Miguel Pliego García began his Bachelor degree studies with Luis Fonseca at the Real Conservatory, combining his musical education with a degree in Architecture at the ETSAM. Later he completed his undergraduate studies at the Guildhall School of Music & Drama in London under Professor Luis Cabrera and Rinat Ibragimov. At present, he is currently studying a Master's degree with Professor Wies de Boevé at the Zürcher Hochschule der Künste. This was possible thanks to the economical support of Juventudes Musicales de Madrid, INAEM, ZHdK Foundation and the Lyra Stiftung.
He has attended several courses receiving lessons from musicians like Edicson Ruiz, Alberto Boccini, Janne Saksala, David Takeno, Evan Rothstein, Cecelia Bruggemeyer, Jan Vogler and Carole Petitdemange. Furthermore, his passion for modern music has brought him to take jazz courses at the Conservatorium van Amsterdam and the Berklee College of Music, for which he was awarded with a full scholarship.
Under the baton of conductors such as Esa Pekka Salonen, Daniel Harding, François-Xavier Roth, Lorenzo Viotti, Juanjo Mena and Pablo Heras-Casado, he has been invited to perform in several orchestras like the Spanish Youth Orchestra (JONDE), Netherlands Youth Orchestra (NJO), Orquesta de la Comunidad de Madrid, and Australian Chamber Orchestra. In addition, he was appointed sub-principal double bass at the Netherlands Philharmonic Orchestra for a temporary contract. Currently, he is a regular collaborator in the Euskadiko Orkestra, Orchestre de la Suisse Romande, and Musikkollegium Winterthur as a practicant.
Beyond the big ensembles he enjoys playing chamber music and solo concerts, having been invited by festivals like the Encuentro de Música Santander, Gustav Mahler Academy, Davos Music Festival and Moritzburg Festival. As a soloist he has been accompanied by the RCSMM String Orchestra and Orquesta de Cámara Andrés Segovia under direction of Víctor Ambroa in the Auditorio Nacional de Madrid, invited by A+música Association. Furthermore, he was awarded with the first Prize in the Viennese Double Bass Competition in 2019 in Amsterdam.
---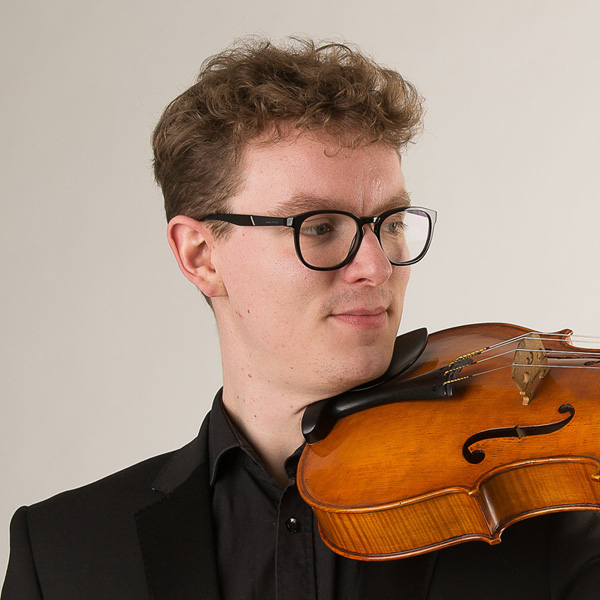 George White
Viola
Born in Bath and raised in the South West, George is now based in London and enjoys a busy and varied life as a versatile chamber and orchestral musician and teacher.
He studied with Garfield Jackson at the Royal Academy of Music, where he participated in masterclasses with Tatjana Masurenko, Hartmut Rohde and Garth Knox. In 2013 he gained a place in the class of Thomas Riebl at the International Musicians Seminar at Prussia Cove, and was also a participant at the Casalmaggiore International Festival. The same year, he received the Marjory Bunty Lempfert Award and graduated from the RAM with first-class honours.
George toured with the European Union Youth Orchestra in 2014 and was also a reservist with the Gustav Mahler Youth Orchestra. He has since freelanced with numerous UK orchestras, including the Royal Philharmonic Concert Orchestra, Bournemouth Symphony, Army of Generals and La Folia. He has also played main stages at the Glastonbury, Green Man and All Points East festivals, and has toured the UK with artists such as Father John Misty and The Unthanks.
Among other collaborations, George plays regularly with the Edington Ensemble, and, with pianist John Reid, has especially enjoyed exploring much of the piano quartet canon in recent years.
---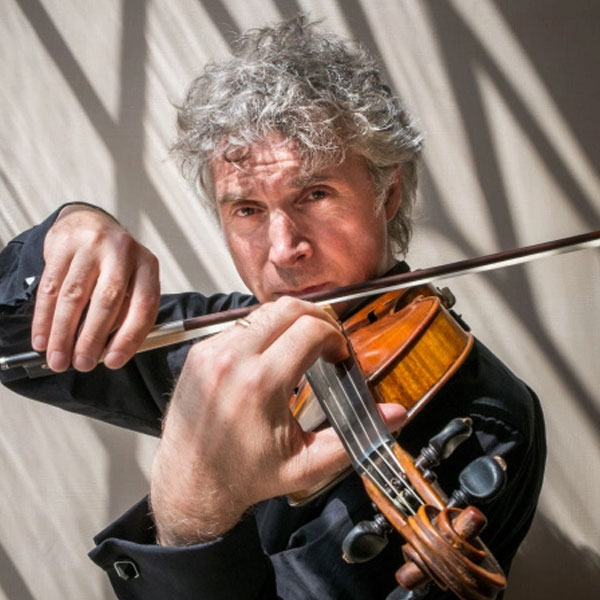 Peter Hanson
Mentor (Violin)
Leader, ORR
Peter Hanson has been the leader of Orchestre Révolutionnaire et Romantique (ORR) for over 25 years, appearing in nearly all of their concerts and recordings. In November 2012, he was the soloist for a European and US tour of Beethoven's Missa Solemnis, which, as well as several major European venues, also featured performances in Carnegie Hall, NY and Orange County, CA. In October 2013, the ORR toured Switzerland and neighbouring countries. The 2017 Prom with ORR featured Berlioz's La Damnation de Faust. 2018 included a huge European and US tour of Berlioz's works, including two Carnegie Hall concerts, and a tour of Verdi's Requiem. Most recently, the ORR has continued its commitment to the music of Berlioz with a European tour (including a performance at the BBC Proms) of his bombastic first opera, Benvenuto Cellini.
Peter has played with both modern and period instrument groups throughout his career, including the Academy of St. Martin-in-the-Fields, London Symphony Orchestra, London Sinfonietta, and as leader of the Philharmonia Orchestra, under Rostropovich. He was leader for Trevor Pinnock and the English Concert for seven years and has played with Roger Norrington and the Orchestra of the Age of Enlightenment. During this time, a vision of a new type of string quartet emerged: the Eroica Quartet was formed with colleagues from the world of period instrument performance. Recordings of all the Mendelssohn quartets, all the Schumann quartets and various Beethoven quartets soon followed on the Harmonia Mundi label. In February 2012, their recordings of the Ravel and Debussy quartets were released, along with a recording of the un-edited version of Mendelssohn's string octet.
As a Director of Music, he has a permanent place in the Carmel Bach Festival in California, curating a programme of chamber music concerts, directing two string orchestra concerts and acting as concertmaster for most of the festival orchestra concerts.
Peter also directs concerts with other orchestras. Recent engagements have included projects with the Singapore Symphony Orchestra, Kymi Sinfonia from Finland, Orquesta da Camera (near Barcelona) and the Luxembourg Philharmonic. In 2017, he was guest concertmaster for a Beethoven and Gade project with Concerto Copenhagen, under the baton of Lars Ulrik Mortensen.
---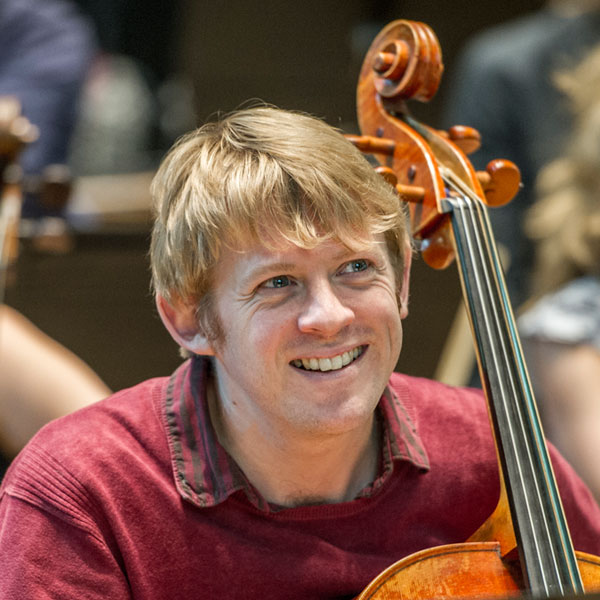 Robin Michael
Mentor (Cello)
Principal Cello, ORR
Robin Michael studied at the Royal Academy of Music with David Strange and Colin Carr, and later with Ferenc Rados. He is Principal Cellist in Orchestre Révolutionnaire et Romantique, Solo Cellist with Orchestre Les Siècles (Paris), as well as regular guest Principal Cellist with the Australian Chamber Orchestra, Scottish Chamber Orchestra, BBC National Orchestra of Wales, Royal Northern Sinfonia, Irish Chamber Orchestra, Britten Sinfonia, RTE Concert Orchestra, English Baroque Soloists, English National Opera and Orchestra of the Age of Enlightenment.
Robin was the cellist in the Fidelio trio for over 10 years with whom he toured Europe, North America, Asia and South Africa. He has also appeared in collaboration with the Dante and Eroica quartets. Highlights in his discography include the premier recording of Joe Cutler's Cello Concerto with the BBC CO (NMC), the first recording of the original version of Mendelssohn's Octet on period instruments (Resonus), and recordings with the Fidelio trio on Naxos, NMC, Métier and Delphian records.
---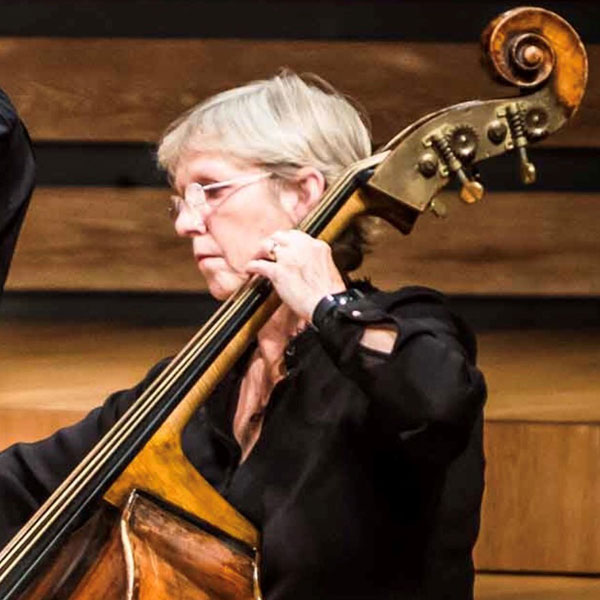 Valerie Botwright
Mentor (Double Bass)
Principal Double Bass, ORR
Valerie Botwright studied at the Royal Academy of Music, as a clarinetist with John Davies, and a double bass player with John Walton. She was the winner of the Eugene Cruft Prize for double bass, and upon completion of her studies was appointed Principal Bass of the Scottish Baroque Ensemble. She then became a founder member and Principal Bass of the Scottish Chamber Orchestra, also playing for Scottish Opera.
She returned to London and worked with various orchestras including the Academy of St Martins, before joining the Monteverdi Orchestra and subsequently becoming the Principal Bass of the English Baroque Soloists and the Orchestre Révolutionnaire et Romantique.
She was one of the pioneers of the early music movement and continues to be at the forefront of historically informed performance. In 2005 she gained a first-class honours degree in psychotherapeutic counselling, and in addition to her playing career is now working in the field of performance wellbeing.
In 2011 she became a Fellow of the Royal Academy of Music.
---