Bach Easter Oratorio
SDG 719 | 1 CD (19 tracks)
Monteverdi Choir
English Baroque Soloists
John Eliot Gardiner

Soloists
Hannah Morrison
Meg Bragle
Nicholas Mulroy
Peter Harvey
Following their acclaimed release of Bach's Ascension Oratorio, the Monteverdi Choir and English Baroque Soloists have recorded the Easter Oratorio BWV 249, one of Bach's less-performed choral works. The Easter Oratorio was composed originally as a simple cantata, and was later revised into a more polished piece, with a meditative emphasis and underlying narrative flavour. The work is paired with Bach's Actus tragicus BWV 106.
The album is packaged in our usual casebook packaging and contains a 28 pages booklet with notes by John Eliot Gardiner and texts in German, English and French.

Recorded in London, June 2013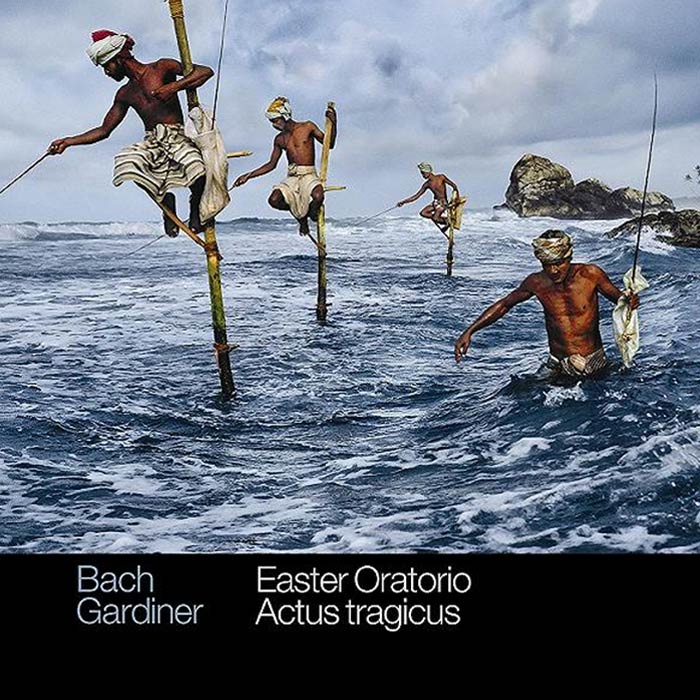 Album CD
Free standard delivery worldwide
(Courier delivery options available)
£12.99
Album download
MP3 album
£7.00
---
FLAC album
£8.00
Unsure whether to choose MP3 or FLAC? Please read our FAQ before downloading.
Individual tracks will available download
Disc 1
Track
Title
Duration
Format
01
Actus Tragicus Gottes Zeit ist die allerbeste Zeit BWV 106 1. Sonatina
2:38
£0.69
£0.79
02
Actus Tragicus Gottes Zeit ist die allerbeste Zeit BWV 106 2a. Coro Gottes Zeit ist die allerbeste Zeit
1:34
£0.69
£0.79
03
Actus Tragicus Gottes Zeit ist die allerbeste Zeit BWV 106 2b. Arioso: Tenor Ach, Herr, lehre uns bedenken 2b. Arioso: Tenor Ach, Herr, lehre uns bedenken
2:13
£0.69
£0.79
04
Actus Tragicus Gottes Zeit ist die allerbeste Zeit BWV 106 2c. Aria: Bass Bestelle dein Haus
1:02
£0.69
£0.79
05
Actus Tragicus Gottes Zeit ist die allerbeste Zeit BWV 106 2d. Coro ed Arioso: Sopran Es ist der alte Bund
3:33
£0.69
£0.79
06
Actus Tragicus Gottes Zeit ist die allerbeste Zeit BWV 106 3a. Aria: Alt In deine Hände befehl ich meinen Geist
1:52
£0.69
£0.79
07
Actus Tragicus Gottes Zeit ist die allerbeste Zeit BWV 106 3b. Arioso: Bass con Choral: Alt Heute wirst du mit mir im Paradies sein
3:45
£0.69
£0.79
08
Actus Tragicus Gottes Zeit ist die allerbeste Zeit BWV 106 4. Coro (Choral) Glorie, Lob, Ehr und Herrlichkeit
2:28
£0.69
£0.79
Disc 2
Track
Title
Duration
Format
01
Easter Oratorio 1. Sinfonia
3:46
£0.69
£0.79
02
Easter Oratorio 2. Adagio
3:52
£0.69
£0.79
03
Easter Oratorio 3. Coro Kommt, eilet und laufet
4:31
£0.69
£0.79
04
Easter Oratorio 4. Recitativo: Alt, Sopran, Tenor, Bass O kalter Männer Sinn!
0:58
£0.69
£0.79
05
Easter Oratorio 5. Aria: Sopran Seele, deine Spezereien
10:55
£0.69
£0.79
06
Easter Oratorio 6. Recitativo: Tenor, Bass, Alt Hier ist die Gruft
0:44
£0.69
£0.79
07
Easter Oratorio 7. Aria: Tenor Sanfte soll mein Todeskummer
7:09
£0.69
£0.79
08
Easter Oratorio 8. Recitativo: Sopran, Alt Indessen seufzen wir
0:58
£0.69
£0.79
09
Easter Oratorio 9. Aria: Alt Saget, saget mir geschwinde
5:28
£0.69
£0.79
10
Easter Oratorio 10. Recitativo: Bass Wir sind erfreut
0:35
£0.69
£0.79
11
Easter Oratorio 11. Coro Preis und Dank
2:12
£0.69
£0.79