Apprentices Programme Applications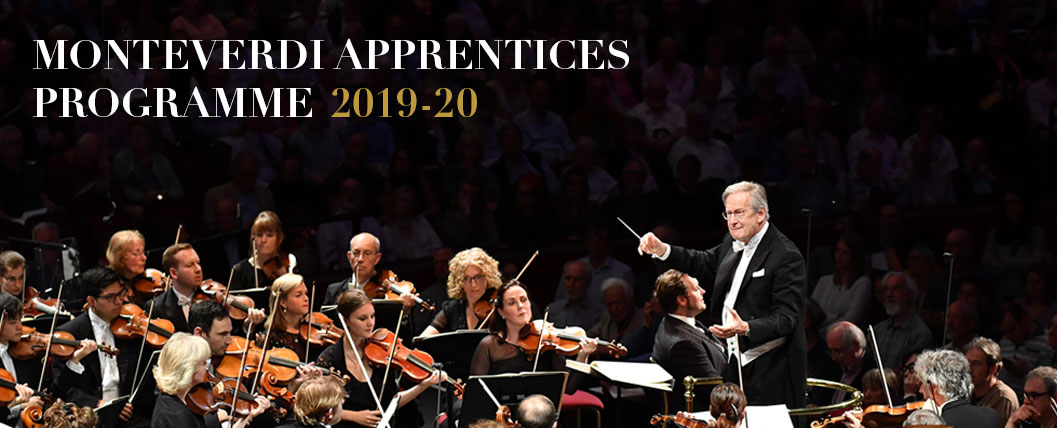 ​We are delighted to announce that we are now accepting applications from string players for the 2019/20 Monteverdi Apprentices Programme. For a full description of the Programme and details of how to apply, please read on below. For general information about the Apprentices Programme, please click here.
INTRODUCTION

The Monteverdi Apprentices Programme was set up in 2007 - the first of its kind in the UK - its aim being to nurture exceptional musical talent and an aptitude for ensemble performance. The Programme's aim is to round out young musicians' education following undergraduate or postgraduate study and to help equip them for future challenges by giving them the opportunity to work alongside some of the best and most experienced musicians in the business.
For the 2019/20 season, string Apprentices will be fully integrated into the Orchestre Révolutionnaire et Romantique (ORR), joining them for concert projects in London and on tour in Europe and taking part in multiple workshops and masterclasses led by experts in their field. While a major focus of the year will be the complete Beethoven Symphony Cycle, there will be opportunities to explore a wider range of Romantic, Classical and Baroque repertoire during the year.
There could be no better first step towards a professional career.
WHAT THE APPRENTICES PROGRAMME OFFERS
For the successful applicants the benefits are manifold:
• Training in all aspects of being a professional musician. Intensive workshops allow Apprentices to receive personal and group tuition from Sir John Eliot Gardiner and established musicians who act as mentors. Training will cover historically-inspired performance practice; music interpretation; contextual insights on composers and their music; yoga sessions to improve suppleness and breathing.
"[The Apprentices Programme] opened my eyes to the fact that this place where making music is so liberating exists. In the Monteverdi ensembles there is always a search for naturalness and authenticity." Monika Grimm, 2016-17 Apprentice (now regular performer with the ORR and EBS)
• Mentoring to the very highest level of instrumental playing. Each Apprentice will be matched to an experienced member of the same section and receives artistic advice and practical support from their mentor not just during projects, but throughout the 2019-20 season. Mentors include Peter Hanson, Oliver Wilson, Robin Michael and Valerie Botwright.
"Being told that a specific action or technique will lead to the result required is immensely helpful. It feels as though more time is invested in each piece of repertoire in Monteverdi sessions and that musical effort is channeled effectively." Emma Lewis, 2014-15 Apprentice (now regular singer with the Monteverdi Choir)
• Opportunities to participate in pre-rehearsal sessions. Apprentices will take part in separate preliminary rehearsals to help them become familiar with the repertoire and the specific musical techniques the repertoire requires, before joining our ensembles in rehearsal.
"It was a luxury having the time to cover finer interpretational points and technical challenges alongside the other Apprentices on such an intimate level." Davina Clarke, 2014-15 Apprentice (now regular performer with the ORR and EBS)
• The experience of working, touring and performing a wide variety of repertoire. It is vital to young musicians to gain early experience of the rigours of international touring, and our feedback from past participants tells us how much this is valued. Apprentices will perform alongside the Monteverdi ensembles in paid professional engagements in London and on tour in Europe.
"Learning about the demands and expectations of working in the music industry from people who live and breathe it gave a great insight into possible career options." Angharad Rowlands, 2014-15 Apprentice (now regular singer with the MVC)
• A platform upon which to launch a performing career. Apprentices learn first-hand about the exacting demands and working practices of an internationally-renowned ensemble. Periods of workshops elsewhere in the Apprentices Programme also culminate in showcase performances to industry professionals, family and supporters to prepare Apprentices for marketing themselves in their burgeoning careers.
"The Apprentices Programme has dictated the direction of my career. When I applied, I was working part-time in a field unrelated to music. It is because I was fortunate enough to be on this scheme that I am now working full-time as a singer. I imagine that the Apprenticeship has had, and will continue to have, a hand in everything I do for the foreseeable future." Rory Carver, 2014-15 Apprentice (now regular singer with the MVC)
Please note that there is no upper or lower age limit for the Apprentices Programme, but applicants are asked to be mindful of the fact that the Programme is aimed at musicians who have recently completed their studies who are intending to embark (or who have recently embarked) on a professional career.
Prospective applicants will likely be familiar with the work of our ensembles, but if you require further information please explore the website or contact Tom Hansell via email.
PROJECTS
We aim to appoint up to eight string (violin, viola, cello and double bass) Apprentices for the 2019-20 season, who will be invited to take part in several projects with the Orchestre Révolutionnaire et Romantique (ORR). Apprentices will be asked to perform concerts in the United Kingdom and on tour in Europe and to attend all associated rehearsals, as well as dedicated workshops and coaching sessions tailored to their musical aims and ambitions. Exactly which projects Apprentices participate in will be decided after the auditions and as the year progresses, but successful applicants should be prepared to be called for the following periods:
2019
16-19 December Introductory Workshops
2020
22-24 January: Beethoven Workshops
26 Jan-6 Feb: Beethoven Symphony Cycle Rehearsals
8-14 February: Beethoven Symphony Cycle (Barcelona)
20-22 March: Chamber Music Workshops
8-16 May: Beethoven Symphony Cycle
19-27 June: Beethoven Symphony Cycle (TBC)
4-6 August: Chamber Music Workshops
28 Aug-8 Sep: Beethoven Missa Solemnis
26-29 September: Showcase Recital
NB: all projects take place in London unless otherwise stated.
Apprentices are always very welcome as observers at rehearsals for MCO projects in which they are not taking part – further details will be provided to successful applicants.
FEEDBACK
In addition to ad hoc feedback during workshops and rehearsals, verbal and written feedback will be provided on a regular and ongoing basis from mentors and Sir John Eliot Gardiner. At the end of the year Apprentices will be asked to write a brief report on their experience and they will be considered for further professional engagements by the Monteverdi Choir.
REMUNERATION
All touring expenses (travel, accommodation and per diems) outside of the UK will be covered. Apprentices will be paid a half-fee for each concert project in which they participate (including associated rehearsals), as well as any additional broadcast, recording, streaming fees, etc. as appropriate. Candidates who are not London-based must note that, unfortunately, any expenses incurred in travelling to and staying in London for rehearsals and concerts cannot be covered.
HOW TO APPLY
To apply, please email copies of the following, or provide links (via OneDrive, Dropbox, Google Drive etc.) to tom@monteverdi.org.uk with the subject line "Monteverdi Apprentices Application":
• Completed Application Form
• Your CV
• A recent audio recording or video (5-10 minutes in duration) of you playing repertoire relevant to the work of the ORR. An excerpt of a movement is perfectly acceptable - it need not be a complete work. It is preferable, but not essential, that you should use the same pitch and instrument setup you will play on if invited to audition.
• A reference from a current teacher, conductor or director
• Copy of MCO's Equality and Diversity Monitoring Form
Applications that fail to provide all of the items above will not be accepted. Please ensure that you are available for the audition dates and all projects listed above before making your application.
Applications close at 10:00am on Monday 29 July 2019.
WHAT NEXT?
After an initial selection based on as assessment of CVs, recording and references, we will inform successful applicants if they have been shortlisted for the first round of auditions. We regret that it is not possible to acknowledge all applications, and only successful applicants will be contacted once the deadline has passed.
AUDITIONS
First round auditions will take place from 1-2 October in Central London (except for double basses, which will take place on 3 October)
All second round auditions will take place on 3 October in Central London
Audition Requirements
Applicants are asked to audition using nineteenth century/modern instruments at pitch A=430 using Tourte copy bows (or bows of the same period) with uncovered gut E, A & D strings for violins; uncovered gut A and D strings for violas and cellos; uncovered gut G and D (and optional A) strings for double basses.
Applicants should prepare the following repertoire:
Violin:
• The exposition of the first movement from a Mozart violin concerto, either No. 3, No. 4 or No. 5
• Orchestral Beethoven extracts (all from the part):
Symphony No. 1
1st movement: b.1-52
2nd movement: b.1-64
4th movement: first half until first time bar
Symphony No. 2
2nd movement: b.239-256
4th movement: b.1-12
Symphony No. 3
3rd movement: b.1-69
4th movement: b.1-12 and b.78-109
Symphony No. 5
1st movement: b.25-124
3rd movement: b.338-399, continuing to the start of the 4th movement
Symphony No. 6
Symphony No. 8
2nd movement: b.1-33
4th movement: b.1-40
Symphony No. 9
2nd movement: b.1-77 and b.798-852
3rd movement: b.3-18, Tempo primo (b.43-58) and Lo stesso tempo (b.99-114)
4th movement: b.541-594
Viola:
• 1st and 2nd movements of Schumann Märchenbilder, op. 113
• Orchestral extracts:
Mozart - Trio Divertimento, K. 563
1st movement: b.141-163
4th movement: b.96-128
Beethoven - Symphony No. 3
Beethoven - Symphony No. 7
2nd movement: b.1-50
3rd movement: b.241-288
Cello:
• 1st movement of either Haydn Concerto in C major or Haydn Concerto in D major (both without cadenzas)
• 1st movement of either Beethoven Sonata, op. 69 or Beethoven Sonata, op. 102, No. 1
• Orchestral Beethoven extracts:
Symphony No. 5, 2nd movement: b.1-10, b.49-59, b.98-124 and b.180-195
Symphony No. 5, 3rd movement: b.1-218
Double Bass:
• 1st movement from a Dittersdorf, Dragonetti or Koussevitzky concerto
• Koussevitzky Chanson triste, op. 2
• Orchestral Beethoven extracts:
Symphony No. 5, 2nd movement: b.114-123
Symphony No. 5, 3rd movement: b.1-96 and b.140-196
Symphony No. 9, 4th movement: b.9-29
Missa Solemnis, Gloria: b.1-42
An accompanist will be provided. Applicants are more than welcome to bring their own but must please state their intention to do so on the application form and should note that the accompanying instrument will be a fortepiano tuned to A=430. Fortepiano parts of all repertoire will be supplied.
Extract parts (with bowings) will be made available to download for applicants invited to audition.
It will not be necessary to play anything from memory, but please be prepared to speak briefly about why you are applying and what you hope to get out of the Apprentices Programme.
The panel for both rounds of auditions will comprise members of the Monteverdi ensembles, with John Eliot Gardiner joining for the second round.
CONTACT US
Should you require any further information, please email tom@monteverdi.org.uk.
Download 2019/20 Programme Information