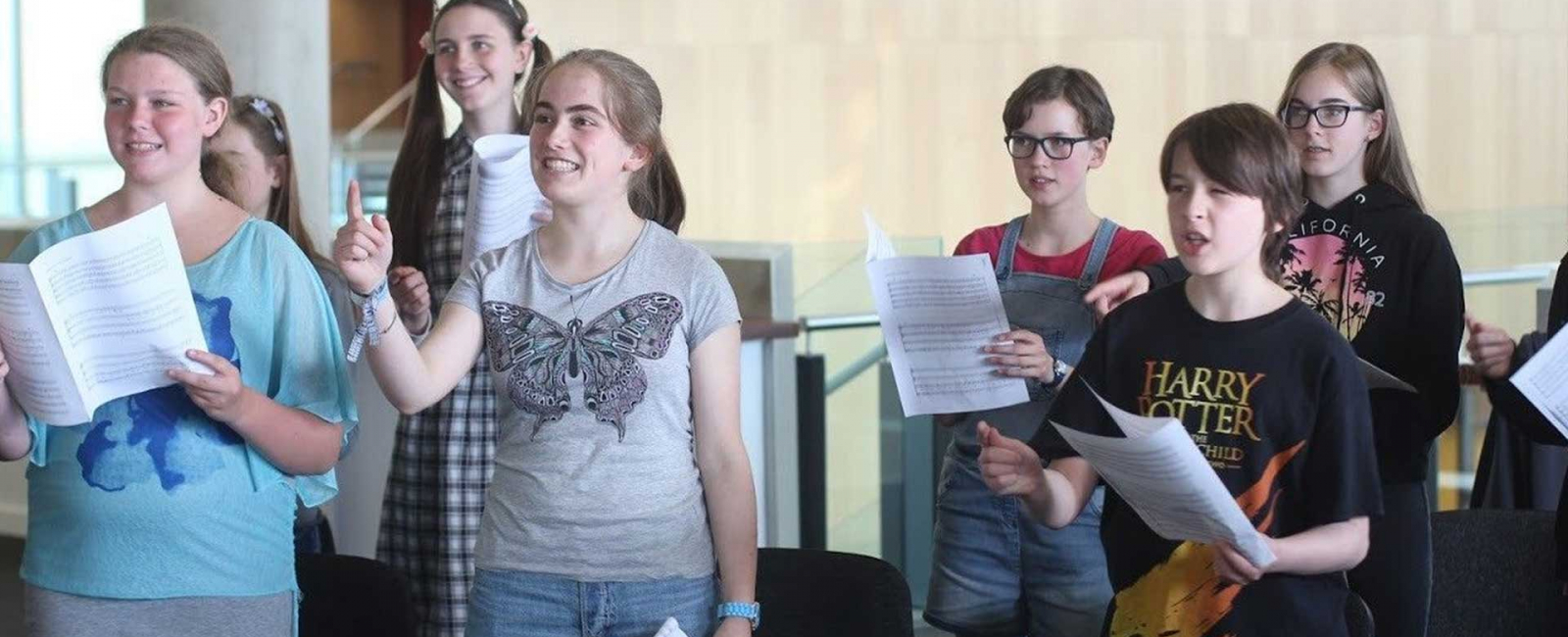 Our recent education projects serve to highlight our dedication to learning and participation opportunies, as we strive to spread our unique brand of historically-informed music-making to a wide and diverse audience - not just in the UK, but worldwide.
Working with children's choirs
We regularly work in partnership with youth choirs, both in the UK and internationally. Each performance of our 2016 tour of J.S. Bach's St Matthew Passion featured a different choir including the Cor Infantil de l'Orfeó Català, Netherlands Youth Choir, Luzerner Sängerknaben and Trinity Boys Choir.
In August 2017, members of the National Youth Choir of Scotland sang with us at the BBC Proms for the third year in a row, and will be joining us in New York later in 2018.
Our work with these choirs gives talented young performers the opportunity to learn first-hand about the artistic process during the most formative years of their musical lives, and provides a range of experiences which, we hope, will shape their musical futures.
Bristol Plays Music Monteverdi 450 Project
As part of the outreach programme during our Monteverdi 450 celebrations, we worked in partnership with education hub Bristol Plays Music to provide workshops to local children and young people on Claudio Monteverdi and historically informed performance practice.
In May 2017, participants took part in an interactive singing workshop with Monteverdi Choir member Sam Evans, and attended a pre-performance talk and the dress rehearsal of L'Incoronazione di Poppea. Later in the month, attendees watched members of the English Baroque Soloists perform and talk about their instruments in an intimate workshop environment, after which they attended the dress rehearsal for a second Monteverdi opera - L'Orfeo.
As a result of the profound impact that this fantastic project had on its participants, the Monteverdi Choir & Orchestras, together with Bristol Plays Music, was nominated for Best Classical Music Education Initiative as part of Rhinegold Music and Drama Expo's Music Teacher Awards for Excellence, and a Royal Philharmonic Society award in the Learning & Participation category.
SPREAD Project
(Skills, Practice & Recruitment of European musicians & Audience Development of tomorrow)

In 2016 Monteverdi Choir and Orchestras participated in the SPREAD project, co-funded by the Creative Europe Programme, which aimed to establish a Europe-wide training network for young musicians, enabling them to pursue a professional career to the highest standard. The project was developed in partnership with the Mahler Academy (Bolzano, IT), Gustav Mahler Youth Orchestra (Vienna, AU), Gezeitenkonzerte chamber music festival (Aurich, DE) and Ostfriesische Landschaft.
In August 2016, six of our principal players coached Mahler Academy students on period instrument performance. Seven of these students were invited to audition for the Apprentices Programme and four were accepted onto the scheme. The SPREAD grant we received towards the Apprentices Programme has helped fund workshops and enabled the apprentices to join our Brahms | Beethoven | Schubert European tour in November 2016.